It's a simple rice and moong dal khichdi with aromatic tadka (tempering) of garlic and few other spices. The aromatic tempering of garlic, mustard seeds, cumin seeds and curry leaves adds an amazing flavor to khichdi making it a perfect way to use the leftover plain khichdi. Vaghareli Khichdi (Vaghar is a Gujarati word for tempering in English and tadka in Hindi) is a very popular comfort food among people of Gujarat and is often known as Gujarati Khichdi. Follow this step-by-step photo recipe to learn how to make a plain khichdi even tastier if you are tired of eating your regular food and want to try something new that is easy to prepare, homemade and healthy.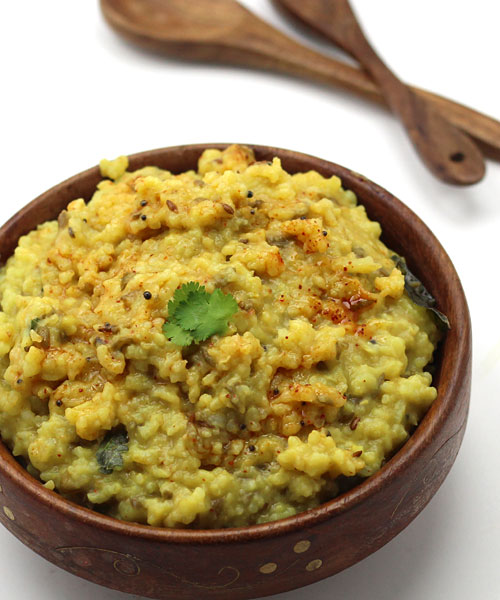 More Gujarati Recipes
Preparation Time:
 5 minutes
Ingredients:
2/3 cup Rice (short grained)
1/3 cup Moong Dal (split green gram with skin) or Toor Dal (split yellow lentils)
3½ cups Water
1/8 teaspoon Turmeric Powder
Salt to taste
For Tadka (vaghar)
4-5 Garlic Cloves, chopped
1/4 teaspoon Mustard Seeds
1/2 teaspoon Cumin Seeds
4-5 Curry Leaves
1/2 teaspoon Red Chilli Powder
1 teaspoon Cumin-Coriander Powder, optional
1 tablespoon Oil
Note:
You can also use leftover khichdi (if you have any) instead of making a fresh one.
Directions:
Rinse rice and moong dal in water. Drain the water and transfer them to a pressure cooker (3-5 liter capacity). Add 3½ cups water, turmeric powder and salt. Mix well and taste the water for salt and add more if required.

Close the lid and pressure cook for 4-whistles, cook on high flame until first whistle is completed and then reduce the flame to medium. Cook over medium flame for remaining three whistles. Turn off the flame. Do not open the lid until pressure releases naturally (opening the lid immediately will result in uncooked khichdi). Open the lid after about 20 minutes and stir and mix the cooked khichdi with a spoon or spatula.

Heat 1-tablespoon oil in a small tempering pan. When oil is medium hot, add mustard seeds. When they start to pop, add cumin seeds, chopped garlic cloves and curry leaves. When garlic starts to turn light brown, turn off the flame (It will start to turn light brown within 30-40 seconds). Add red chilli powder and cumin-coriander powder and mix well.

Pour tempering (tadka/ vaghar) over cooked khichdi and mix with a spoon. Vaghareli khichdi is now ready to serve. Enjoy it with plain curd and papad.
Tips and Variations:
if you are using leftover khichdi, make sure that it is at room temperature.
Change the quantity of garlic in tempering according to your taste.
Add 1/4 cup chopped potato and 1/4 cup chopped brinjal while cooking khichdi for variation.
Taste:
 Mild spicy with garlic flavor
Serving Ideas:
 Serve vagahreli khichdi with plain yogurt or
Gujarati kadhi
or
potato curry
for wholesome dinner or pack it in a lunch box.