This light and crispy sabudana vada is not only fun to eat snack but also a preferred fasting food during fasting days and festivals like Navratri. This is also an easy kid's snack that can be served in breakfast or packed in their lunch box. Learn how to make crispy sago wada with this easy recipe.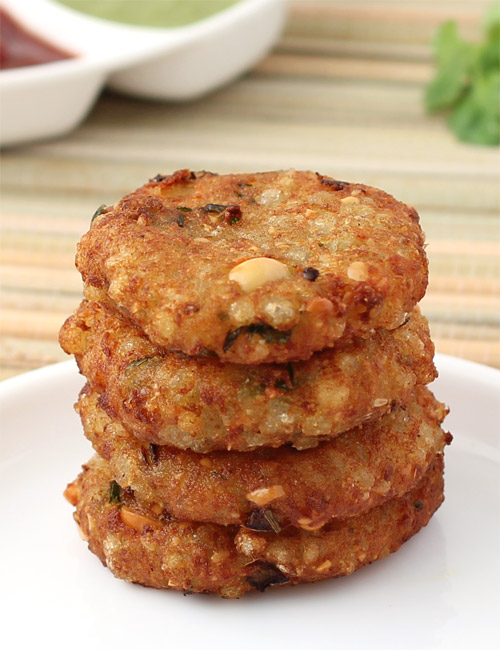 More Snacks Recipes
Preparation Time:
4 Hours
Ingredients:
1/2 cup Sabudana (small tapioca pearls)
2 large Potatoes, boiled
1/4 cup Peanuts, roasted and coarsely crushed
1 teaspoon Sesame Seeds
1 Green Chilli, deseeded and finely chopped
1/2 teaspoon grated Ginger
1½ tablespoons Coriander Leaves, finely chopped
1/2 teaspoon Cumin Seeds
1/4 teaspoon Garam Masala Powder
1 teaspoon Lemon Juice
1 teaspoon Sugar (optional)
Salt
Oil
1/3 cup Water (to soak sabudana)
Directions:
Wash sabudana and soak them for 2½ hours in 1/3 cup water.

You will notice size of sabudana pearl would increase in couple of hours.

Place them in sieve, drain excess water and keep aside for 1½ hours. This process will make them non-sticky.

Peel and grate boiled potatoes in a large bowl.

Add drained sabudana, coarsely crushed peanuts, sesame seeds, green chilli, ginger, coriander leaves, cumin seeds, garam masala powder, lemon juice, sugar and salt.

Mix all ingredients well and make a soft dough like mixture.

Divide it into 12 equal lemon size portions. Give them a round shape of ball and press a little between your palms and flatten like pattie. If mixture is sticky, then grease your palms with a small amount of oil.

Heat oil in a frying pan over medium heat for deep frying. When it is medium hot, slowly slide 3-4 patties in it. When top surface turns light brown, flip them and deep fry until golden brown on both sides. Drain prepared sago vada and transfer them to a plate. Deep fry the remaining vadas. Crispy sabudana vadas are ready; serve them hot with tamarind chutney, spicy green chutney and curd.
Tips and Variations:
If you do not have roasted peanuts, then dry roast them in a pan or kadai for 4-5 minutes over medium heat. Stir continuously to roast them evenly. Transfer to a plate, remove skin and crush them coarsely using mixed grinder or pestle and mortar.
Make sure that oil is sufficiently hot otherwise vada may crack while frying. How to check whether oil is sufficiently hot or not? Drop a small portion of dough in oil and if it floats back to surface immediately, then it is hot enough to start deep-frying.
Do not stir vada for approx 1 minute after dropping them in oil. Stirring immediately will disturb them and they may crack.
Add 1 tablespoon fresh or dry grated coconut and 2 tablespoons rajgira flour for crispy texture and variation.
Taste:
Crispy from outside and soft from inside.
Serving Ideas:
Serve sabudana wada as fasting food during vrats (fasting days) or Navratri days. You can savor this light snack with
green chutney
or
mint chutney
as an evening party snack.