Besan covered deep fried long green chillis stuffed with the delicious filling of peanuts, coconut, carom seeds and coriander seeds is a delectable mouthwatering snack, especially during the rainy season. In this traditional mirchi bajji recipe, green chillis are stuffed with filling prepared with roasted peanuts, coconut and few other spices to give it a unique taste which compliments the hotness of the mirchi. However you can also make the simple bhajji without stuffing if you prefer to. This scrumptious Indian street food is popularly known as mirchi bada in Rajasthan, mirapakaya bajji in Andhra Pradesh and various other names like bhajiya, bhaji, bonda, pakora etc,. in different parts of India and it's very easy to prepare at home with this recipe's step by step photo guide, tips and serving ideas.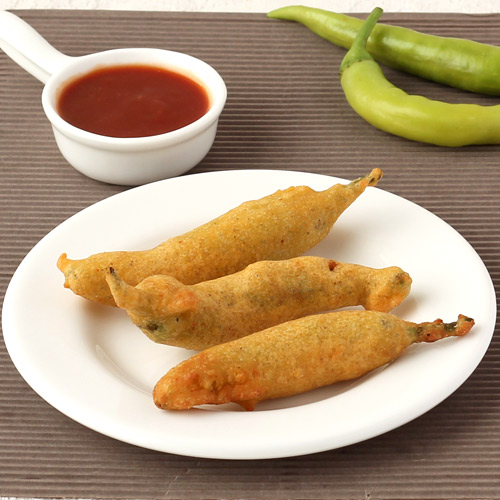 More Snacks Recipes
Preparation Time:
15 minutes
Ingredients:
6 long Green Chillies
1/2 cup + 2 tablespoons Gram Flour (besan flour)
1/4 cup Rice Flour
A pinch of Baking Soda
1/4 teaspoon Red Chilli Powder
For Stuffing:
2 tablespoons Chana Dal (Roasted Gram Dal or Daliya Dal)
1/2 tablespoon Sesame Seeds
1 tablespoon Coriander Seeds
2 tablespoons dried Coconut Powder
1/2 tablespoon Lemon Juice or Tamarind Juice
1/4 teaspoon Carom Seeds (vaamu/ajwain)
1/2 cup Water
Oil, for deep frying
Salt to taste
Directions:
Rinse green chillies in water and dry them using kitchen towel. Slit them lengthwise on single side using knife, by keeping ends intact (as shown in the picture). Remove the seeds with the help of knife or spoon to reduce the hotness of chilli.

Now prepare stuffing – roast gram dal, sesame seeds and coriander seeds together over low flame for approx. 2-minutes and transfer to a plate. Let it cool for 3-4 minutes.

Add roasted gram dal, sesame seeds, coriander seeds, dried coconut powder, carom seeds, red chilli powder, lemon juice and 1/4 teaspoon salt in the chutney jar of a mixer grinder.

Grind it into medium coarse texture and transfer to a bowl. Filling for stuffed mirchi bhaji is now ready.

Take one green chilli, gently open the slit using your fingers and fill in the stuffing mixture (approx. 1 tablespoon); place it in a plate. Stuff all the chillis with the same process.

Now prepare batter for coating bhaji – add gram flour, rice flour, a pinch of baking powder, red chilli powder, cumin seeds and salt in a large bowl. Add water (approx. 1/2 cup or as required) little by little and mix using a spoon until semi thick consistency (like thick buttermilk consistency or pancake batter consistency). Make sure that there are no lumps in the batter.

Heat oil in a deep frying pan over medium flame. When oil is medium hot, dip stuffed mirchi one at a time into batter and drop it gently into hot oil; add 2-3 batter covered stuffed chillies at a time and deep-fry them until they turn light brown and crispy.

Take them out using slotted spoon and drain excess oil. Transfer them over kitchen paper in a plate. Deep fry the remaining bhajjis in the same way. Serve stuffed mirchi bajji with tomato ketchup and

hari dhaniya chutney

.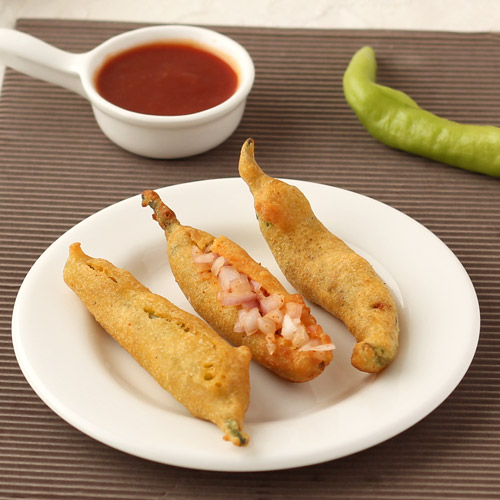 Tips and Variations:
To check whether oil is medium hot and ready for deep frying or not, drop a little drop of batter into the hot oil and if comes upward immediately without its color getting changed then oil is ready. If it doesn't come on the surface immediately then oil is not enough hot. If it comes upward immediately and its color is changed then oil is too hot and you need to reduce the heat.
To reduce the spiciness of green chillis, boil them in salted water for 2-3 minutes over medium flame after completing the slitting process (step-1). Drain them and pat dry with kitchen towel before stuffing them with prepared mixture.
If the batter has become too watery then add few teaspoons of gram flour in ti and mix well.
Use peanuts instead of roasted chana dal for variation.
Mix 1 finely chopped onion, 1/4 teaspoon red chilli powder, 1-teaspoon lemon juice and salt in a bowl to make onion mixture. Slit fried mirchi bajjis (prepared in step-8) vertically using knife and fill them with prepared mixture to give it a tempting look and make it tastier.
Cut fried mirchi bajji into 3 pieces using knife and place them in a serving plate; sprinkle 1 tablespoon chopped onion, 1-teaspoon lemon juice, and 1/2 teaspoon chat masala over it and serve as a chat.
Serving Ideas:
 Serve them with hot tea as a snack. It makes wonderful combination with tomato ketchup or
pudina chutney
.