The classic always remains a classic and seldom needs any introduction! The dahi vada prepared with this recipe has a classic north Indian style touch that makes it so delicious that you would never want it to get over. To make them extra soft and spongy, the deep-fried dumplings made from lightly spiced urad dal based batter are soaked in water before burying them under smooth and creamy layer of beaten curd. The garnish of red chilli powder, roasted cumin powder, sweet chutney and coriander leaves gives it as good tempting look at it tastes! Bring it on!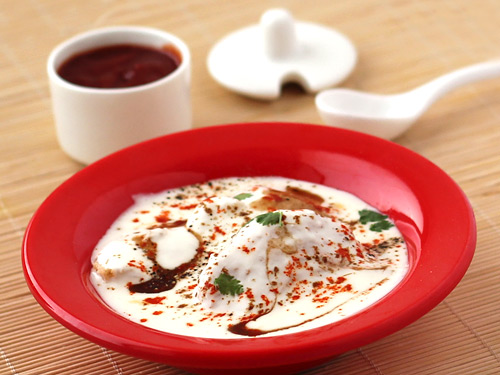 Dahi Vada (Dahi Bhalla) Video
More Snacks Recipes
Preparation Time:
6 Hours 20 minutes
For Vada:
1 cup Urad Dal (black gram lentils without skin)
1/2 tablespoon crushed Ginger-Green Chilli, optional
Oil, for deep frying
Salt to taste
4 cups lukewarm Water
For Assembling:
3½ cups Curd (yogurt)
3 tablespoons Powdered Sugar or to taste (optional)
1 tablespoon Red Chilli Powder
2 tablespoons Roasted Cumin Powder
1 tablespoon Black Pepper Powder (optional)
1/4 cup finely chopped Coriander Leaves
1/4 cup Sweet Chutney (date tamarind chutney)
Directions for Vada:
Rinse and soak urad dal in water for 6 hours or overnight.

Its size would increase to almost double during soaking. Drain and discard all water from dal.

Place it in grinder and grind into a smooth paste by gradually adding 1-2 tablespoons water at a time as required (approx. 1/2-cup total water). Amount of water required may vary according to the quality of dal. Do not add too much water otherwise batter will turn watery; it should have thick lumpy consistency and there should not be any broken dal pieces.

Transfer it to a large bowl and add crushed ginger-chili and salt.

Mix well and beat the batter until it turns light, about at-least 4-5 minutes. This step is very critical as it will decide how soft and fluffy vada would be after deep-frying. More or excess beating will not harm the softness and fluffiness of it.

Heat oil in a deep frying pan over medium flame. When oil is medium hot, take a medium lemon sized portion of batter in between your fingers or a spoon and gently drop it into the oil. Drop 4-5 portions at a time. Deep-fry them on medium heat until light golden brown and crispy. Take them out from oil and let them cool down at room temperature. Transfer them into a bowl filled with lukewarm water. Make vadas from remaining batter in similar way.

Soak them for about 7-8 minutes. Oil droplets would start floating on surface and vada would turn soft.

Takeout them out from water and press gently between your palms to remove excess water. (This will also drain-out excess oil)

Transfer them to a plate.
For Garnishing:
Beat curd with sugar and salt with hand beater until smooth. Do not use electric blender for beating otherwise curd will turn very thin.

Take 4-5 fried and soaked vadas in a deep serving plate or a bowl. Pour generous amount of curd evenly over it until fully covered. Top it with 2-teaspoons sweet chutney and sprinkle red chilli powder, roasted cumin powder and black pepper powder. Garnish dahi bhalla chaat with coriander leaves and serve.
Tips and Variations:
In Gujarat and Maharashtra, sugar is added to the curd but if you do not like a sweeter taste of it then you can avoid it.
You can prepare vada from equal amount of moong dal and urad dal or only from moong dal.
Curd should be chilled for a better taste. You can beat curd in advance and then place it in a refrigerator to chill.
Transfer fried vada into the warm water after they cool down completely and make sure that they stay are fully submerged in it. This will make them softer.
While taking vada out from water make sure that water is not hot, otherwise you may burn your hands.
If you deep-fry them on high flame then they will immediately turn golden brown from outside but remain uncooked from inside.
If you fry them on low flame then they will absorb more oil.
Taste:
Salty and mild sweet
Serving Ideas:
Serve it as a side dish in lunch or dinner. It can also be served as a party snack or as an evening chaat.