Makhana (fox nuts or lotus seeds or phool makhana) are a good source of fibre and protein, and also contains potassium, magnesium and phosphorus. Roasted makhanas are a healthy snack to serve with afternoon tea and also a good choice for kids lunchbox. It has a low glycemic index so it's good for diabetic people. It can also be eaten during fasts(vrat).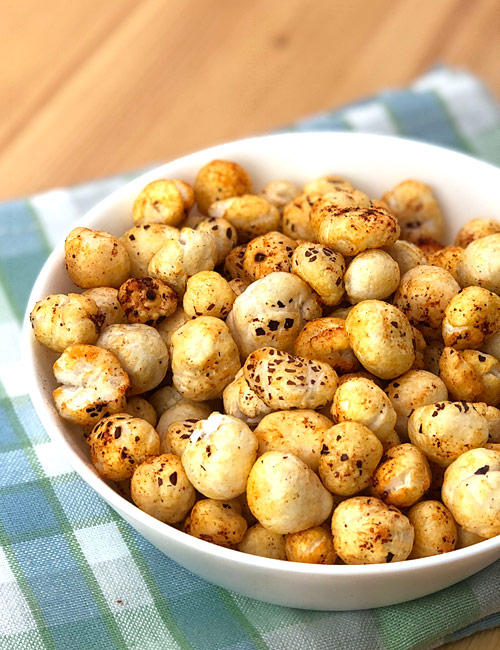 More Snacks Recipes
Preparation Time:
2 minutes
Ingredients:
2 cups Makhana (fox nuts / lotus seeds / phool makhana)
2 teaspoons Ghee
1/4 teaspoon Turmeric Powder
1/2 teaspoon Red Chilli Powder
1/2 teaspoon Chaat Masala
Salt, to taste
Directions:
Keep all the ingredients ready.

Heat 1 teaspoon ghee in a heavy based pan or a kadai over low flame.

Add 2 cups makhana (fox nuts / lotus seeds / phool makhana). Roast them until they turn crisp, stir in between to prevent them from burning. It will take around 12- 15 minutes over low flame.

To check Makhanas are roasted or not – Take one makhana and press it, if it breaks easily that means it is roasted perfectly. If it is soft when you press it, you need to roast it more.

Turn off the flame when makhanas are roasted. Add 1 teaspoon ghee, 1/4 teaspoon turmeric powder, 1/2 teaspoon red chilli powder, 1/2 teaspoon chaat masala and salt. Don't skip ghee in this step as it is necessary to coat the makhana evenly with masala.

Mix well until all the makhanas are coated evenly with masala. Let them cool down at room temperature and store in an airtight container. Roasted Makhanas are ready.
Tips and Variations:
Always roast the makhana on low flame.
Add the masala after switching off the flame to prevent them from burning.
You can add the masala (spices) as per your taste.
Serving Ideas:
  Serve makhana as an afternoon snack with a cup of tea.