A crispy and amazingly low calorie roasted papad topped with chopped tomato, onion, coriander and with a touch of tongue tickling hot and spicy mix of chaat masala, dry mango powder and chilli powder.
Masala Papad is an instant and easy to prepare appetizer that can also be enjoyed as an evening munch or side for drinks. This masala papad recipe uses roasted papad to keep calorie counts low but you can also use deep fried papadum to get Punjabi restaurant like taste. We bet you will need more of them because of its taste so make them in quantity.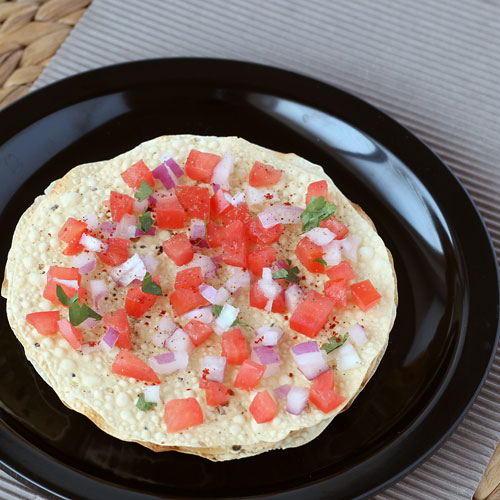 More Starter Recipes
Preparation Time:
5 minutes
Ingredients:
2 Raw Urad Papad (like Lijjat Papad)
1 medium Tomato
1 small Onion (or 1/4 cup finely chopped)
1 tablespoon finely chopped Coriander Leaves
1/4 teaspoon Red Chilli Powder
1/4 teaspoon Chaat Masala Powder
1/4 teaspoon Dry Mango Powder (aamchur) or 1/4 Lemon
Salt to taste
Directions:
Roast papad by holding and flipping it over direct gas flame using a tong. Keep gas flame to medium to prevent it from burning. To roast it on electric stovetop, see instructions given below. To roast it in microwave oven; place it in oven, run it for 30 seconds, flip it and again roast for 30 seconds. You can also use deep fried or shallow fried papad.
Cut tomato into half and remove seeds. (Tip: store those seeds in refrigerator and use them to make curry.) Finely chop the tomato and onion.
Take both papads in individual plates and sprinkle chopped tomato, chopped onion and coriander leaves over it. (See tips given below to make your own variation.)
Sprinkle a pinch of each red chilli powder, chaat masala powder, dry mango powder and salt over it.
Masala Papad is ready for serving. Serve it immediately for crispy and crunchy taste. It will turn soggy within few minutes because of moisture of tomato and onion, so sprinkle all the ingredients only at the time of serving.
How to Roast Papad on Electric Stove Top (without oil)
Place wire mesh over stovetop and put it on medium heat. In about a minute it will become hot enough to roast the papad. Place raw papad over it.

After few seconds, flip it with a tong.

Flip and cook it until both sides are roasted properly.
Tips and Variations:
For variation, add grated carrot, finely chopped green raw mango and green chilli.
Feel free to adjust the quantity of ingredients to get your desired taste.
Assemble masala papad only at the time of serving to prevent it from turning soggy before serving.
We have used roasted papad to make this appetizer a low calorie. However you can deep fry them to get the Punjabi restaurant style flavor.
We have used Lijjat brand papad in this recipe. It comes in different flavors like garlic, jeera (cumin), plain, black pepper etc. and you can use any flavored or brand of papad based on availability.
Taste:
Crispy and mild spicy
Serving Ideas:
Serve it as an appetizer before meal. It can also be enjoyed as standalone snack.