Dry and spicy Paneer Manchurian is one of the best Indo Chinese recipes. This recipe is similar to gobi manchurian but uses soft paneer cubes instead of cauliflower florets. It is one of the easy paneer dishes of Indo Chinese cuisine and an ideal party food as well.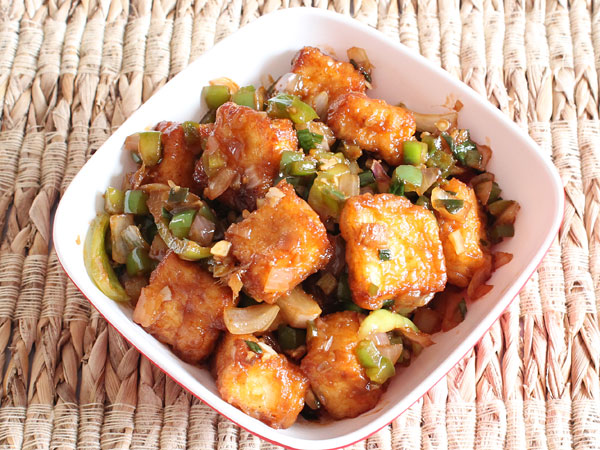 More Chinese Recipes
Preparation Time:
10 minutes
Ingredients:
250 gms (1/2 lbs) Paneer (cottage cheese)
2 tablespoons Maida (all purpose flour)
4 tablespoons Cornflour (corn starch)
1/2 teaspoon Garlic Paste
1/2 teaspoon Ginger Paste
Cooking Oil
Salt
1/4 cup Water
For Sauté
1/2 teaspoon Garlic Paste
1/2 teaspoon Ginger Paste
1/4 cup finely chopped Capsicum
1 small Onion, finely chopped
1 Green Chilli, finely chopped
2 tablespoons finely chopped Spring Onion
2 tablespoons Cooking Oil
1 tablespoons Soy Sauce
1/2 tablespoon Chilli Sauce
2 tablespoons Tomato Ketchup
Salt
Directions for Manchurian:
Cut paneer (cottage cheese) into small cubes. Mix maida flour, cornflour, salt, ginger paste and garlic paste with 1/4 cup water in a bowl and make a thick batter. Add paneer cubes in prepared batter, mix and let them marinate for 20 minutes.

Heat oil in kadai (pan). Deep fry marinated, batter coated paneer cubes over medium flame until they turn golden brown.

Drain and transfer them to plate having absorbent kitchen paper spread on it (to remove excess oil).
Directions for Sauté:
Heat 2 tablespoons oil in a wide, thin-bottomed pan on medium flame. Add ginger paste, garlic paste and sauté for 30 seconds on medium flame.

Add chopped green chilli, diced capsicum and diced onion. Sauté for 2-3 minutes.

Add soy sauce, tomato ketchup, chilli sauce and salt. Add fried paneer pieces and spring onion; mix well. Toss everything multiple times and cook for 1-2 minutes on high flame.

Paneer manchurian dry is ready. Garnish with chopped spring onion and serve.
Tips and Variations:
Chilli sauce and soy sauce are main flavoring ingredients in any manchurian recipe. You can adjust the quantity of these two sauces to get a desired flavor.
Prepared batter should not be too thick or too thin. Thin batter will not coat paneer cubes well and thick batter will not make crisp outer layer.
If you are staying at a place where paneer is not available in store, then either you can make it at home or use tofu.
Taste:
Soft and spicy with nice complex flavor of soya sauce, ginger and garlic.
Serving Ideas:
Serve it as a starter or as an evening snack with tomato ketch up and chilli sauce.