It is a spicy yet irresistibly delicious snack prepared by deep-frying spicy paste coated paneer cubes. It has dry texture and can be served as starter, appetizer, snack or accompaniment. Unlike paneer manchurian, this step by step photos recipe of paneer 65 does not use soya and chilli sauce to get spiciness; instead, it uses varieties of Indian spices and combination of cornflour, all purpose flour and curd to get its signature tongue tickling taste.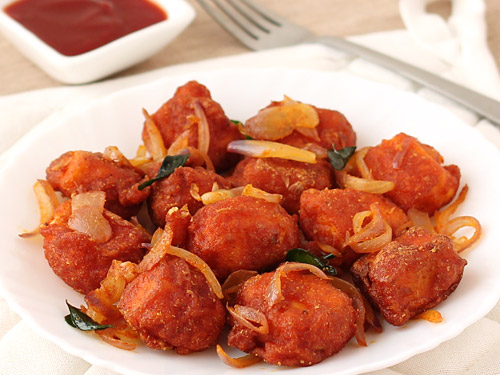 More Snacks Recipes
Preparation Time:
10 minutes
Ingredients:
200 gms (1/2 lb) Paneer (Cottage Cheese)
2½ tablespoons Maida (all purpose flour)
3 tablespoons Cornflour (corn starch)
1 tablespoon Rice Flour
1½ teaspoons crushed Ginger
1½ teaspoons crushed Garlic
1/2 teaspoon Chaat Masala Powder
1/4 teaspoon Garam Masala Powder
1 teaspoon Red Chilli Powder
1 teaspoon Coriander Powder
1 drop of Red Food Color (optional)
5 tablespoons Water
For deep frying + 2 teaspoons Oil
1 medium Onion, finely sliced
8-10 Curry Leaves
1½ tablespoons Thick Curd
3/4 teaspoon + 1/8 teaspoon Salt (or to taste)
Directions:
Cut paneer into 1-inch cubes. Mix maida, cornflour, rice flour, ginger, garlic, chaat masala powder, garam masala powder, 1/2 teaspoon red chilli powder, coriander powder, red food color and 3/4 teaspoon salt in a medium bowl.

Add approx. 5-tablespoons water and make a medium thick paste. Add paneer cubes in prepared paste and mix well until coated with it.

Heat oil in a pan over medium flame for deep frying. Deep-fry all pieces in small batches (4-5 pieces at a time) until golden brown and crispy. Drain and transfer on plate. Spread good quality paper napkin on plate before transferring them on plate to absorb excess oil.

Heat 2 teaspoons oil in another pan over medium flame. Add sliced onion and curry leaves, sauté until onion turns translucent.

Add thick curd, 1/4 teaspoon red chilli powder and 1/8 teaspoon salt.

Mix well, stir and cook for a minute.

Add fried paneer pieces and cook for 2-3 minutes.

Turn off flame and transfer prepared paneer 65 dry in serving dish.
Tips and Variations:
If you are preparing it as snack for kids, then reduce the quantity of ginger, garlic and red chillies and make it less spicy, suitable for kids.
We have added a pinch of tandoori color or red food color in step-2 to get nice orange color. However, we do not recommend using any additive food color as it does not affect or improve the taste of this spicy deep fried paneer starter.
You can avoid thick curd and onion in above recipe if you want to.
For yet another best variation, add sliced capsicum in step-4 and sauté for 2-minutes.
Taste:
Spicy, crispy and dry
Serving Ideas:
Serve it as a starter or as an accompaniment with meal. It is a delicious evening snack when served with spicy pudina chutney or tangy tamarind chutney or tomato ketchup.