It is one of best paneer recipes that can be served as starter or as an accompaniment. There are multiple ways in which this awesome starter can be prepared. The authentic method requires either BBQ grill or conventional oven to get smoky flavor. However not everyone has access to BBQ and sometimes its simply not possible to use BBQ grill. This step by step photos recipe overcomes that problem by using tava to cook paneer tikka dry. This method gives nice and crispy texture to paneer and vegetables but does not have smoky flavor.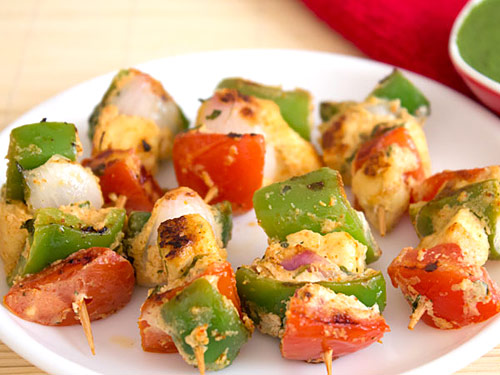 More Starter Recipes
Preparation Time:
10 minutes
Cooking Time:
1 hour 10 minutes
Ingredients:
1½ cups Paneer (cottage cheese), cut into 1-inch square, 1/2 inch thick slices
2 Green Capsicums, cut into 1-inch squares
1 Red Capsicum, cut into 1-inch squares
1 medium Onion, cut into 1-inch chunks
1½ teaspoons Ginger-Garlic Paste
1 cup Hung Curd (or Greek Yogurt)
1/2 teaspoon Red Chilli Powder
1/4 teaspoon Garam Masala
1/2 teaspoon Kasuri Methi (dried fenugreek leaves)
1 teaspoon Coriander Powder
1 teaspoon + 1 teaspoon Chaat Masala
1½ tablespoons Oil
Salt
1-2 teaspoon Lemon Juice
1 medium Onion, thinly sliced (for garnishing)
How to Prepare Hung Curd?
Hang approx 1½ cup curd (plain dahi) in muslin cloth for 30 minutes to prepare 1 cup hung curd. If it is watery, then hang it for 1 more hour. Use full fat curd (less watery curd) for best result.
Directions:
Take hung curd in a big bowl and beat it until smooth. Add ginger-garlic paste, red chilli powder, garam masala, kasuri methi, coriander powder, 1-teaspoon chaat masala and salt in it. Mix well and prepare a marinade.

Add paneer, both types of capsicum and onion, mix gently to coat all added ingredients with marinade. Keep aside for 1 hour to marinate. If possible, cover and place them in refrigerator to marinate overnight.

Arrange red capsicum, green capsicum, onion, paneer and green capsicum in given order on small wooden toothpick/ skewer.

Heat non-stick griddle or tawa, spread 1½ tablespoons oil on it. When tawa is hot enough, shallow fry skewered paneer and vegetables over medium heat.

Cook each side by turning toothpick/ skewer until all sides are light brown. This will take approx 3-4 minutes. Crispy paneer tikka dry is ready.

Transfer them to a serving plate and remove the toothpick/ skewer by holding bottom most vegetable in place and sliding skewer backwards. Sprinkle 1 teaspoon chaat masala and few drops of lemon juice over it and garnish with thinly sliced onion and serve.
Tips and Variations:
If you do not have non-stick griddle or non-stick tawa, then use regular tawa or griddle and add more oil while shallow frying to prevent it from sticking.
Use Kashmiri red chilli powder for nice color. It is less hot but gives a nice color.
Use tomato, yellow capsicum and baby corn for variation.
Use sour cream if curd is not available.
Tofu can be used as a substitute of paneer in this recipe.
Taste:
Spicy, soft inside, crispy outside.
Serving Ideas:
Dry paneer tikka can be served with green chutney as a side dish or starter.