Tandoori Paneer Tikka Recipe
This is an authentic paneer tikka recipe that has been followed from the time of Moguls. It is made by marinating paneer in special type of marinade made from thick curd, tandoori masala powder and many other spices. It also requires to be cooked in traditional clay or modern gas tandoor to get the smoky flavor.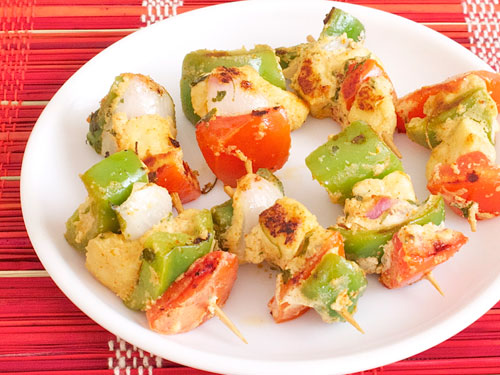 More Starter Recipes
Preparation Time:
10 minutes + 3 hours
Ingredients:
250 gms (1/2 lb) Paneer (cottage cheese), cut into 1/2 inch thick 1 inch square slices
1 medium Tomato, seeded and cut into 1 inch squares
1 medium Onion, cut into 1 inch squares
1 large Green Capsicum, seeded and cut into 1 inch squares
1 teaspoon Tandoori Masala Powder
1/2 teaspoon Kasuri Methi (dried fenugreek leaves)
2 teaspoons Ginger-Garlic Paste
1 teaspoon Cumin Powder
1/4 teaspoon Turmeric Powder
1/2 teaspoon Red Chilli Powder
1 teaspoon Lemon Juice
1 cup Hung Curd or Thick Curd
1 teaspoon Chat Masala
1 tablespoon Coriander Leaves
2 tablespoons Oil
Salt
Directions:
Beat thick curd or hung curd in a large bowl until smooth. Add tandoori powder, kasuri methi, ginger-garlic paste, cumin powder, turmeric powder, red chilli powder, lemon juice and salt. Stir well and make a marinade.
Add capsicum, onion and paneer slices in it and mix gently until coated well. Cover and let it marinate at least for an hour or for 3 hours. If you are going to let it marinate for 3 hours or more, then put it in refrigerator.
If you are using wooden skewers, then soak them in cold water for 10 minutes before using to prevent them from burning. Skew marinated tomato, onion, paneer and capsicum in given order on wooden or metal skewer. Repeat the process for remaining marinated veggies and paneer and skew them all in one or more skewers.
Brush them with small amount of oil and place them on a heated tandoor to cook for 15 to 20 minutes until light brown from all sides. Check and turn skewer every five minutes to make sure that it cooks evenly and does not over cook and burn.

Note: If tandoor is not available then use oven or BBQ grill. Place prepared skewers in a baking tray (with aluminum foil spread on the bottom) or on a grill pan. Grill for around 15-17 minutes in preheated oven. Turn once in between after about 8 minutes of cooking.)
Take out skewers and transfer them to a plate. Remove skewer by holding bottom most veggie by one hand and slowly sliding skewer backward by other hand.
Sprinkle chat masala and coriander leaves over it. Squirt some lemon if you like sour and spicy taste.
Tandoori Paneer Tikka is ready. Serve them with mint chutney for best experience.
Tips and Variations:
Do not overcook them otherwise paneer will turn dry and rubbery.
Make sure that skewered veggies and paneer are brushed with oil to keep them from burning and becoming hard during baking or grilling.
Use sour cream or yogurt if curd is not available.
Use red capsicum, yellow capsicum (bell pepper), mushroom, broccoli or baby corn for variation. Apart from additional taste, it also adds to the visual appeal of the cooked tandoori paneer tikkas
Taste:
Soft and spicy with mild smoky flavor of tandoor or barbeque.
Serving Ideas:
It can be served with green mint chutney and salad as snack or starter. It is also delicious to eat as an accompaniment in main course of Indian dinner.