Vegetable Pakora, the flavorful deep fried crispy fritters made using mixed vegetables, gram flour and spices is a popular snack cum starter from India. These pakoras are the perfect way to use leftover vegetables in the refrigerator. The making process is very simple and the time requires in only chopping the veggies and deep frying the pakodas. Just mix chopped veggies with gram flour (besan/chickpea flour), spices and water to make the batter and then make small deep fried dumplings from that. Follow the below given recipe of pakoras with step by step photos to make this quick snack at home and enjoy with
green coriander chutney (green dip)
.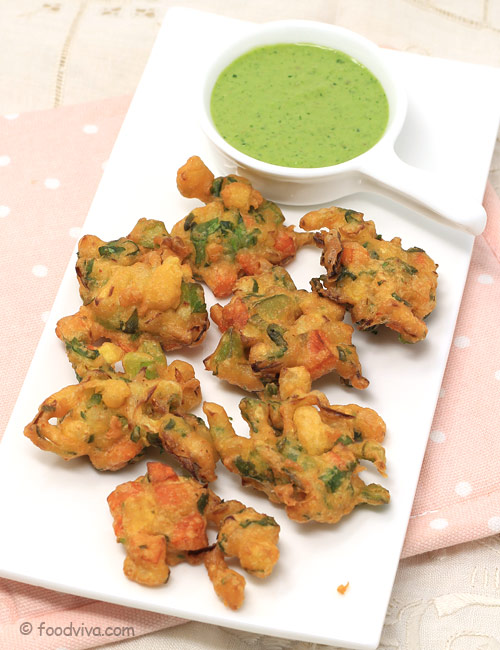 Preparation Time:
10 minutes
Ingredients:
1 small Potato, finely chopped (1/3 cup)
1/4 cup finely chopped Onion
1/4 cup finely chopped Capsicum (green bell pepper)
1/4 cup finely chopped Carrot
1/2 cup finely chopped Cabbage
1/4 cup finely chopped Cauliflower
1/4 cup finely chopped Coriander Leaves
1 Green Chilli, finely chopped, optional
3/4 cup Gram Flour(besan/chickpea flour)
Salt to taste
A pinch of Baking Soda, optional
1/4 teaspoon Red Chilli Powder, optional
Water (1/4 cup) or as needed
Oil, for deep frying
Directions:
Take approx. 2 cups of finely chopped mixed veggies of your choice in a large bowl. In this recipe, we have used 1 small potato (1/3 cup), 1/4 cup onion, 1/4 cup capsicum (green bell pepper), 1/4 cup finely carrot, 1/2 cup cabbage, 1/4 cup cauliflower and 1/4 cup coriander leaves. You can also add the veggies like eggplant, green beans, bottle gourd, sweet potato, fenugreek leaves, spinach, raw banana, etc. as per the availability.

Mix well.

Add 3/4 cup gram flour.

Add salt to taste.

Add a pinch of baking soda.

Add 1/4 teaspoon red chilli powder.

Mix well. As you can see the mixture turns wet because of the moisture in veggies.

Add water little by little as needed to make the batter (used approx. 1/4 cup water). For crispy pakoras, don't add more water. Just add as needed to bind the mixture.

Heat the oil in a deep frying pan over medium flame. When the oil is medium hot, drop a small portion of batter into the hot oil either by using a spoon or your hand to make small pakoras. Drop 7-9 portions of batter in a single batch, depending on the size of a pan.

When the top surface is lightly cooked, flip them using a slotted spoon and deep fry them from another side. Deep fry them until light golden and crispy.

Remove them from the oil using a slotted spoon to drain excess oil. Transfer them to a plate lined with the paper napkin. Vegetable Pakoras are ready for serving. Always serve them hot for best taste.
Tips and Variations:
Add the mixed veggies as per your choice and availability.
Add 2-3 tablespoons rice flour instead of gram flour to make crispier pakoras.
To prevent pakoras from separating in oil, 1.make sure that oil is medium hot 2. and after adding pakodas to the hot oil, don't stir immediately.