Vegetable Cutlet, a delectable combination of mashed potato and green vegetables, is a crisp outside and soft inside Indian potato snack. This stomach filling, mild spicy and crispy Indian cutlet tastes irresistibly delicious when served with assortment of spicy, sweet and sour dips/chutneys like green mint chutney and tamarind chutney, etc.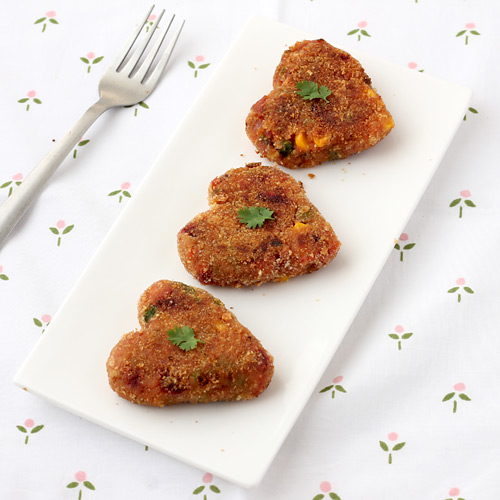 More Snacks Recipes
Preparation Time:
15 minutes
Ingredients:
3 medium Potatoes, boiled, peeled and mashed
1/2 cup Green Peas (mutter), (fresh or frozen)
1/3 cup Sweet Corn, (fresh or frozen)
1/2 cup finely chopped Carrot
1/4 cup finely chopped French Beans
1/3 cup chopped Beetroot
1 Green Chilli, chopped
1 teaspoon chopped Ginger
1/4 cup + 1/4 cup Dry Breadcrumbs
2 tablespoons All Purpose Flour (Maida)
1 small Onion, finely chopped
1/2 teaspoon Red Chilli Powder
1 teaspoon Coriander Powder
1/4 teaspoon Turmeric Powder
1/2 teaspoon Garam Masala Powder
2 tablespoons finely chopped Coriander Leaves
1 teaspoon Lemon Juice
Salt to taste
2 teaspoons Oil + for shallow frying
Directions:
Prepare smooth batter by mixing all-purpose flour and 4 tablespoons water in small deep plate. Crush green chilli and ginger coarsely to make ginger-chilli paste.

Pour 3 cups water in a deep saucepan. Place green peas, carrot, sweet corn and french beans in a medium size bowl (normal bowl or strainer) and place it in a saucepan, close the lid and steam cook them for 8-10 minutes over medium flame. Turn off the flame and open the lid. If you have used normal bowl then strain the veggies using strainer to remove excess water. You can also use pressure cooker instead of deep sauce pan (with lid) to steam cook vegetables.

Heat 2-teaspoons oil in a small pan over medium flame. Add chopped onion and stir fry until it turns light pink. Add crushed green chili ginger (prepared in step-1) and stir fry for few seconds.

Add steam cooked vegetables, chopped beetroot and salt. Mix and cook for 3-4 minutes.

Add red chilli powder, coriander powder, turmeric powder, garam masala powder and mix well.

Turn off flame and transfer prepared mixture in a large bowl. Let it cool for 4-5 minutes.

Add boiled potatoes, 1/4 cup dry breadcrumbs chopped coriander leaves and lemon juice.

Mix properly and taste the mixture. Add more salt and lemon juice if required.

Divide potato and veggie mixture into 9 equal portions. Take one portion, give it a round shape of ball and flatten it to form a 1/2-inch thick pattie or give a heart shape using cutlet mold. Prepare veg patties from remaining portions.

Take remaining 1/4 cup dry breadcrumbs in a small plate. Dip each pattie in flour batter (prepared in step-1) and roll in breadcrumbs to coat all sides with it.

Transfer breadcrumbs coated pattie to a plate. Do the same process for remaining ones.

Heat 1-2 tablespoons oil in a nonstick frying pan or griddle over medium flame. When pan is medium hot, place 2-3 patties and cook it until the bottom surface turns golden brown for around 1-2 minutes. Flip each one and cook another side until it turns golden brown.

Transfer them on a plate over kitchen absorbent paper.

Crispy Indian vegetable cutlets are ready for serving.
Deep Fry Method for Cutlet
Heat oil in a frying pan over medium flame. When it is hot enough for deep-frying, slowly slide-in 3-4 patties in it. Make sure oil is very hot otherwise cutlet may be break in oil while deep frying.
Do not stir them for a minute after dropping in oil otherwise they may crack and break into pieces. Deep-fry them over medium flame until light brown on both sides. Flip them as required to cook evenly.
Transfer them on a plate. Deep-fry remaining ones. Use kitchen absorbent paper to absorb excess oil from it.
Tips and Variations:
You can either boil vegetables or steam cook them in step-2. Steam cook method is a healthy way to cook vegetables.
Grease your palms with oil while making vegetable cutlets from mixture to get even surface of it.
You can make them in different shapes by using cutlet molds.
If you are health conscious, then shallow fry them in flat frying pan. Cooking them with this technique will require less amount of oil.
Taste:
Mild spicy with soft potato and vegetable crust covered in crispy outer layer.
Serving Ideas:
Serve them with mint chutney and tomato ketchup. The combination of potato and green vegetables in crispy yet soft textured cutlets makes it preferred vegetarian snack for children. Place veg cutlets between two slices of buttered breads (like sandwich) to make stomach-filling sandwich.