Sev is a noodle type crispy snack made from gram flour. It is particularly used in many Indian food and snack preparations as main ingredient or garnishing agent. It can be prepared at home very easily. This recipe uses Sevai Machine to prepare it at home. This machine comes with many pre-fabricated molds to prepare sev of varying thickness. We recommend to use mold which prepares thinnest strands.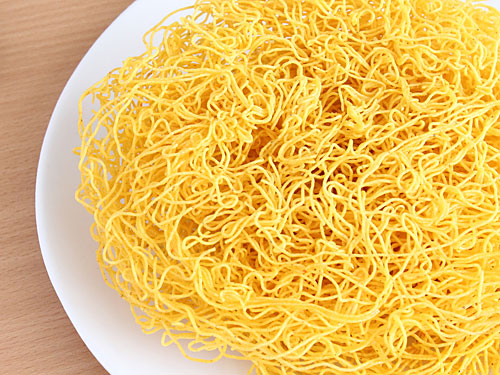 More Snacks Recipes
Preparation Time:
10 minutes
Ingredients:
2 cups Bengal Gram Flour (chick pea flour/besan)
1/3 teaspoon Black Pepper Powder (optional)
1 pinch Asafoetida (hing)
1/2 teaspoon Red Chilli Powder
1/3 teaspoon Turmeric Powder
1 teaspoon Hot Cooking Oil (for dough)
1/2 cup + 2 tablespoons Water (more or less, as needed)
Salt
Oil (for deep frying)
Directions:
Sieve the gram flour in a large bowl. Add black pepper powder, asafoetida, red chilli powder, turmeric powder, hot cooking oil and salt and mix well.

Add approx. (1/2 cup + 2 tablespoons) water (more or less) as needed in small quantities and make smooth and soft dough. Taste for the salt and add more if required.

Take a sevai machine, fit mold with thinnest hole and grease its entire inner surface with oil, fill it with prepared dough and close its lid tightly.

Heat oil in a deep frying pan or kadai over medium heat for deep frying. Hold machine over pan, turn handle of machine and press out thin strands into hot oil. As strands are starting to fall into the oil, slowly move machine in a circular motion (like preparing jalebi).

Deep fry both sides for around 2 minutes on a medium flame until it becomes crisp and light brown. Drain and take it out using perforated spoon and transfer to plate.

Repeat same process for remaining dough. Let it cool down at room temperature for 10-15 minutes before breaking it into pieces. Store in an airtight container and use it for up to 2 weeks.
Tips and Variations:
Adjust the quantity of red chilli powder according to your taste to make it more or less spicy.
Add palak and pudina puree while making dough to make a palak pudina sev.
Add boiled potato and crushed garlic while making dough for a nice flavor.
Use same amount of rice flour or both rice flour and gram flour instead of gram flour for variation.
Taste:
Salty and mild spicy snack.
Serving Ideas:
Sprinkle it over chat, bhel, dahiwada, khaman dhokla, sev khamani, panipuri, poha etc. and make them yummy. You can also use it to prepare Indian chavanu mixture, poha chivda and
sev tomato curry
.