Neer Dosa, a thin, soft and lacy crepe made from rice better is a popular food item in South India, belongs to Karnataka cuisine. Neer means "water" and the batter of this dosa is very watery hence it is called neer dosa (watery dosa). This lacy dosa is very easy to make at home because it doesn't require any fermentation process like other dosas. Batter for this dosa is prepared by grinding soaked rice and then adding water to it to get watery consistency. Then the dosa is prepared by pouring the watery batter over hot tawa like making rava dosa and not like making the plain dosa in which the batter is spread. To make the neer dosa at home, follow this recipe with step by step photos and enjoy it with coconut chutney or sambar or vegetable saagu or with the mixture of jaggery and grated fresh coconut.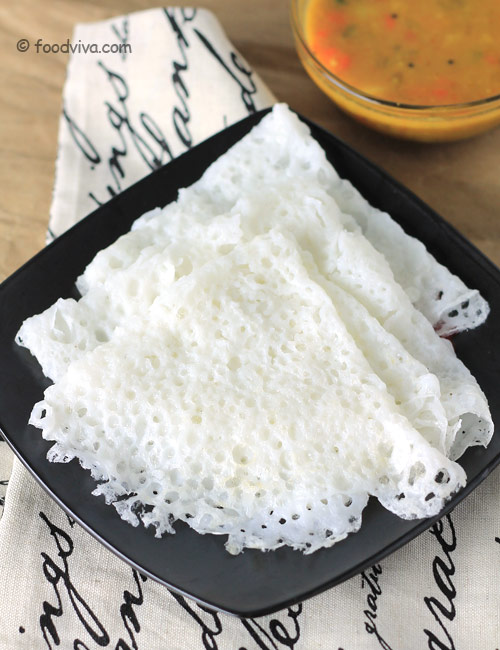 More South Indian Recipes
Preparation Time:
4 hours
Ingredients:
3/4 cup Sona Masoori Rice or any Short Grained Rice
3 tablespoons grated Fresh Coconut (optional)
Oil, for shallow frying
Salt to taste
Directions:
Take 3/4 cup short grained rice in a bowl and wash it for 3-4 times using water.

Soak it in 1½-cups water for at least 3-4 hours.

Drain the excess water and transfer it to the jar of a mixer grinder or blender. Add grated coconut in it.

Grind until smooth batter. Add water as required to grind the rice smoothly. Don't add too much water while grinding, as it would make it difficult to grind the smooth batter.

Transfer it to a large bowl. Add salt and mix well.

Add water little by little and mix well until the batter turns into thin and watery consistency (like milk consistency).

Batter should not be thick. It should have the consistency like buttermilk or milk.

Heat a non stick dosa tawa/skillet over medium flame. Make sure that tawa is hot. Sprinkle few drops of water on the surface and wait until it evaporates. Wipe the surface of tawa with cloth or halved potato. Do this process before making each dosa that helps in making thin dosas.

Take ladle full batter and pour it on the surface in circular motion starting from edge towards the center from approx. 3-4 inches height like rava dosa. Pour the batter until it covers center of the surface. Immediately tilt the tawa in a circular motion to spread batter evenly into thin circle. As you pour the batter, few holes will be formed on the surface, it means the batter has right consistency. If it doesn't happen it means batter is thick.

Drizzle 1/2-teaspoon oil around edges of it. Cook covered until upper surface looks cooed, it will take around 2-3 minutes. Make sure that the bottom surface should not turn brown in color.

Remove the lid.

Fold it on either side with a spatula.

Again fold it into triangular shape. Transfer it to a plate. Make thin and soft dosas in the same way using leftover batter. Hot neer dosas are ready to serve.
Tips and Variations:
While grinding the rice, add only required amount of water to grind the rice. Don't add too much water while grinding else the batter would not turn smooth.
Batter of dosa should be thin and watery like milk to get tiny holes in dosa.
Don't forget to stir the batter well before making each dosa.
Stack the neer dosa only after they are cool a little bit else they stick to each other.
Taste:
 Mild salty with soft texture
Serving Ideas:
 Serve them hot with
coconut chutney
,
sambar
or any spicy pickle in breakfast. It also tastes delicious when served with veg korma or saagu.