It is also known as maida murukku and it's a must have snack during festivals like Diwali. This traditional Gujarati and Marathi style chakri recipe uses maida and requires dry steaming the flour. This unique process provides the melt-in-mouth crispness and tastes like no other. That's not all, the taste is even more accentuated by fragrant feel of sesame seeds.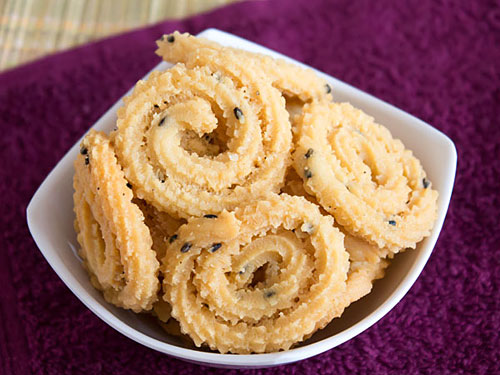 More Snacks Recipes
Preparation Time:
5 minutes
Ingredients:
2 cups Maida (all purpose flour)
1/2 teaspoon Salt
1 teaspoon black Sesame Seeds
1/2 tablespoon Oil + for deep frying
Directions:
Sieve 2 cups maida, tie it in a cotton cloth and place tied maida in a small steel container.

Close the container with lid. Place steel container in a pressure cooker and pour water until it reaches half the height of the container. Close the lid of cooker and steam it for about 15 to 17 minutes (do not worry about number of whistles).

Turn off flame and let it stand for 5-7 minutes. Remove the lid of cooker and open the container. Tied maida would have been transformed into a large lump. Take it out and place in a large bowl and untie it.

Pound it with pestle and break it into flour like consistency.

Sieve again and discard all large and small lumps.

Add and mix black sesame seeds, 1/2 tablespoon oil and salt in sieved flour.

Add water as needed in small incremental quantities (2 tablespoons at a time) and prepare a smooth and soft dough (like chapati dough).

Take star shaped mold and fit it in the chakli maker container.

Fill it with prepared dough.

Close the container tightly with its lid. Form spirals or coils on a paper or a thick plastic sheet by twisting its handle with one hand while moving it in spiral motion using another hand.

Add spirals in medium hot oil and reduce the flame to low, deep fry until they turn light golden brown.

Drain and transfer to plate. Allow it to cool to room temperature and serve or store it in airtight container and consume within 15-20 days.
Tips and Variations:
If you are making it for the first time, forming coils directly is difficult, instead make a string of dough with the help of the chakli maker and then twist it manually by winding it into a spiral from inside to outside.
If you want to prepare it in large quantity then steam cook the flour for longer time.
Add 1/2 teaspoon ajwain (carom seeds) in step-3 to make it even more aromatic and tasty.
Do not deep-fry too many maida chaklis at the same time, because overcrowding may lead to uneven cooking and they may even get glued together.
Serving Ideas:
It can be served along with any sweet during festive times, especially during diwali. They taste delicious when served with tea as an afternoon snack.