American Chopsuey, a delicious savory dish prepared with crispy noodles and saucy stir-fried vegetables, is an Indian adaptation of popular American dish. In India, it is vegetarian and prepared with crispy noodles and vegetables whereas in America it is non-vegetarian and prepared with pasta and beef. This step by step photo recipe of American Choupsuey is for preparing the Indian vegetarian version in which crispy noodles (boiled noodles are deep fried until crispy) are topped with stir-fried vegetables cooked in mild sweet and sour thick sauce.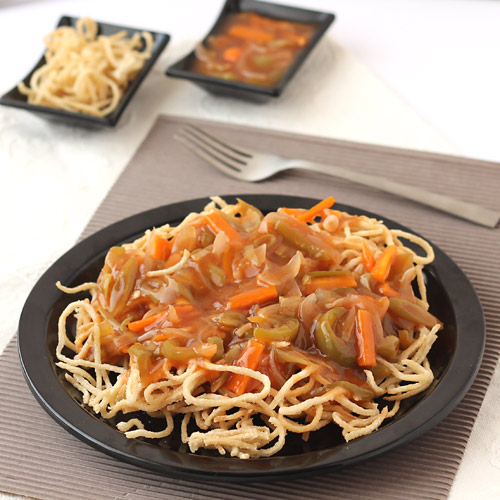 More Chinese Recipes
Preparation Time:
15 minutes
Ingredients:
1 pack (150 gm pack) Plain Hakka Noodles
1/2 cup French Beans, finely chopped
1/2 cup Carrot, cut into thin strips
2 teaspoons finely chopped Ginger
5-6 cloves of Garlic, finely chopped
1-2 Green Chillies, slit vertically
2 medium Onions, finely sliced
1 medium Capsicum, sliced
1/2 cup Cabbage, sliced
1 teaspoon Soy Sauce
1 teaspoon Chilli Sauce (Red or Green)
2 teaspoons Sugar
2 teaspoons Vinegar
3 tablespoons Tomato Ketchup
1/4 teaspoon Black pepper Powder
3 tablespoons + 2 tablespoons Cornflour (corn starch)
1/2 cup + 1 cup Water
Salt to taste
Directions:
Dissolve 3 tablespoons cornflour in 1/2 cup water and keep aside.

Boil carrot and French beans with a pinch of salt in water over medium flame for 3 minutes. Drain water and transfer them to a plate. Keep them aside.

Heat 2 tablespoons oil in another pan over high flame. Add chopped ginger and chopped garlic and sauté for 20 seconds. Add onion and capsicum, sauté for 3-4 minutes.

Add boiled vegetables, cabbage and sauté for 3-4 minutes. Add soy sauce, chilli sauce, sugar, vinegar, tomato ketchup, black pepper powder and salt.

Mix well and cook for a minute.

Add 2-cups water and bring it to boil. When it starts to boil, reduce flame to low and cook for 3 minutes.

Add dissolved cornflour and mix well.

Stir and cook over medium flame until sauce turns thick, darker in color and coats the vegetables for approx. 2-3 minutes.

Turn off the flame. Place crispy fried noodles on a serving plate and pour prepared vegetable sauce mixture over it. Veg American Chopsuey is ready to serve.
Tips and Variations:
In this recipe, we used Ching's noodles, chilli sauce and soy sauce. However, you can use any other brand available in your nearest grocery store.
Time required to boil noodles may vary according to type and brand of noodles. Always follow the instruction given on the back of the pack.
To make crispy noodles, boil them until they are almost cooked (80% cooked) but not soft.
If you fry noodles on very low flame then they will absorb more oil and if you fry them on high flame then they will turn brown immediately but not turn crispy.
Adjust the quantity of chilli sauce and tomato ketchup according to your taste.
Always serve it hot. Pour sauce over crispy noodles just before serving. This will let you enjoy it while noodles is still crispy.
Taste:
Crispy and mild spicy