Crispy fried noodles is not only a key ingredient of the delicious
American chopsuey recipe
but can also be used as a irresistible topping for soup or Chinese sauce coated stir fried vegetables. This step by step photo recipe of crispy noodles also provides tips and serving ideas that will make cooking them at home a breeze.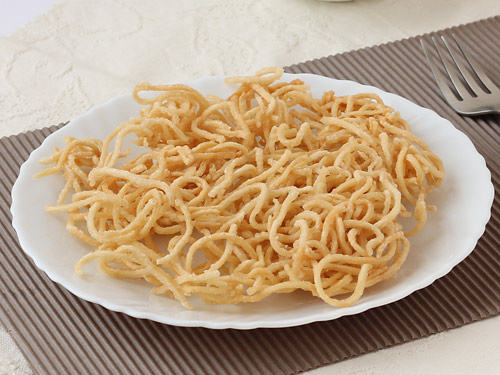 More Cooking Basics
Preparation Time:
40 minutes
Ingredients:
2 cups Boiled Noodles
2 tablespoons + 1 tablespoon Cornflour (corn starch)
Oil, for deep frying
Directions:
Take them in a large bowl, sprinkle 2 tablespoons cornflour over it and toss gently. Spread them on a large plate and again sprinkle 1-tablespoon cornflour over it. Let them dry at room temperature for at least 30 minutes to remove excess moisture.

Heat oil in a deep frying pan over medium flame. Deep fry boiled noodles in batches until light brown and crispy. Drain excess oil and transfer them on to oil absorbent paper spread on a plate. Crunchy noodles are ready.
Tips and Variations:
The noodles must be deep fried over medium flame/heat. If you deep fry them on very low flame then they will absorb more oil and if you deep fry them on high flame then they will turn brown immediately but will not turn crispy.
Do not boil noodles for more than 3 minutes or until mushy otherwise they may not turn crispy after deep-frying.
You can prepare them in advance and store at room temperature for up to 15 days and use it whenever required.
Taste:
 Crispy and Crunchy
Serving Ideas:
You can use fried crispy noodles in a variety of ways to make numerous indo-chinese dishes like American chopsuey, chinese stir fried vegetables, etc. It can also be used as taste and texture enhancer for Chinese soups or enjoyed as a standalone snack.