Coconut ladoo is a traditional Diwali sweet which can be prepared easily at home in just 10 minutes. This instant ladoo sweet can be prepared in advance hence it's the perfect to serve in the parties or potlucks and also a good option to serve as an afterschool snack to kids. You will need only coconut, condensed milk, ghee and cardamom powder to make this ladoo. Follow the below given recipe with step by step photos and tips to make it at home.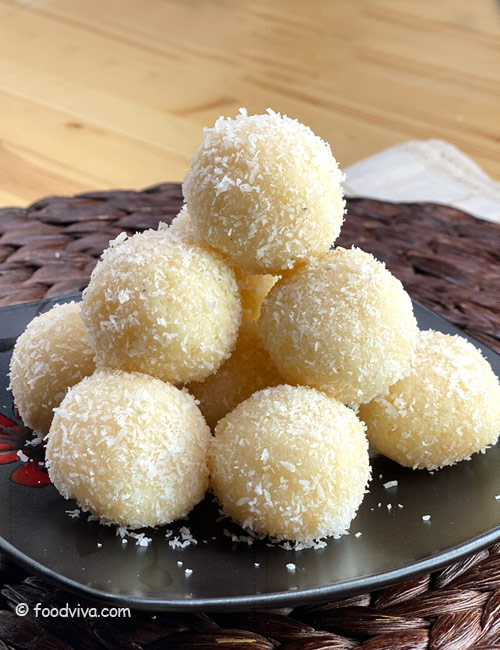 More Desserts Sweets Recipes
Preparation Time:
5 minutes
Ingredients:
1½ cups + 1/4 cup Desiccated Coconut (grated dry coconut) or Fresh grated Coconut
3/4 cup Condensed Milk
1 teaspoon Ghee (clarified butter)
A Pinch of Cardamom Powder
Directions:
Keep all the ingredients ready.

Heat 1 teaspoon ghee in a nonstick pan or a heavy based pan/kadai over medium flame.

Add 1½ cups desiccated coconut (dry grated coconut) and mix well.

Stir continuously and roast the coconut for 2-3 minutes over medium flame. Add 3/4 cup condensed milk.

Mix well. Stir and cook until the coconut and condensed milk mixed properly.

Stir and cook until the mixture turns thick, starts to leave the sides and forms into a big lump. It will take 4-5 minutes over low medium flame. Add 1/4 teaspoon cardamom powder.

Mix well. Turn off the flame and let the mixture cools down for a while for around 5-10 minutes.

Take 1/4 cup desiccated coconut (dry grated coconut) in a small plate. When the mixture is little warm, take a small lemon sized portion from the mixture and give it the shape like ball.

Roll that ball into the desiccated coconut until it coats well from all the sides.

Transfer it to a plate. Make all the laddus in a similar way. Coconut laddus are ready for serving. Store coconut ladoo in an airtight container and keep it in the refrigerator. They stay good for a week.
Tips and Variations:
Coconut – You can use either fresh grated coconut or desiccated coconut (dry grated coconut).
Sweetness – You can add upto 2 cups coconut instead of 1½ cups to make less sweet laddus.
Cooking Time – Cook the mixture until it turns thick. If you are using the fresh coconut then it will take a little longer (a few more minutes).
If you want to make green or pink coconut ladoo then add a pinch of food color in the mixture.
Garnish it with sliced dry fruits like almonds or pistachios for variation.
Serving Ideas:
  Serve coconut laddo with other dry snacks like chivda, farsi crispy puri, methi puri, gatiya etc.to guests on festivals like Diwali and Rakshabandhan.