Thai Red Curry Paste Recipe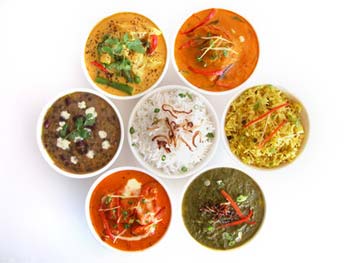 Many of the Thai food items have one common base ingredient, Red Curry Paste. This piping hot curry paste is made by crushing many fresh hot and spicy vegetables like, red chilli, garlic and galangal. It is very easy to make it at home and it gives better texture and flavor compared to ready-made one available in the market. You can alter the amount of any ingredient mentioned below to get your desired.
More Thai Recipes
Preparation Time:
15 minutes
Ingredients:
2 Shallot or Onion, sliced
5-6 Garlic cloves
2 teaspoons finely chopped Galangal (baby ginger)
2 stalks Lemon Grass
8 Dry Red Chillies
1 tablespoon Coriander Seeds
1 tablespoon chopped Coriander Roots
2 tablespoons Cumin Powder
1/2 teaspoon Black Pepper Powder
Salt
Directions:
Soak red chilli in 1/4 cup water for around 10 minutes and drain them.
Finely chop garlic and lemon grass.
Place red chilli, shallot, galangal, garlic, lemon grass, coriander roots, coriander seeds, cumin powder, black pepper powder and salt in a grinder. Grind until it becomes a smooth paste.
Store prepared red Thai curry paste in a bottle and use it for up to 3 weeks (when stored in a freezer).
Tips and Variations:
Use a traditional mortar and pestle to prepare a paste. Place dry ingredients together in a mortar, pound them using pestle for around 5 minutes to make a powder, then add remaining ingredients and pound them into a smooth paste. When it is prepared using mortar and pestle, it has a better texture and nice flavor.
Serving Ideas:
You can use it to prepare many Thai curries and Thai rice dishes.