The besan laddu prepared with this recipe gets its unique and mouth watering flavor, taste and aroma from ghee, roasted gram flour and generous use of saffron and cardamom. Learn how to make it at home with this simple and easy recipe.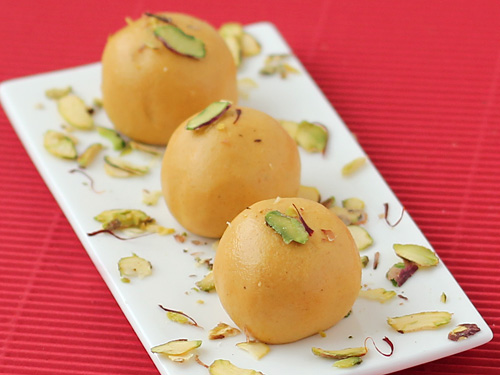 More Desserts Sweets Recipes
Preparation Time:
5 minutes
Ingredients:
1 cup Gram Flour (besan/chickpea flour)
1/4 cup Ghee (clarified butter)
1/2 cup Powdered Sugar
5-7 Saffron Strands, optional
1/4 teaspoon Cardamom Powder (green elaichi powder)
1/4 teaspoon Nutmeg Powder (jaiphal powder), optional
1 tablespoon Sliced Almonds, for garnishing
1 tablespoon Sliced Pistachio, for garnishing
Directions:
Sieve gram flour in a large bowl or a plate and keep it aside.

Heat ghee in a kadai or heavy based pan over low flame.

When ghee starts to melt, add sieved gram flour.

Mix well using a spatula.

Roast it over low flame until it turns golden brown, stirring continuously. When it is roasted properly, you will get the nice aroma from it. It would take approx 7-10 minutes, however, time may vary depending on the thickness of pan or kadai you are using.

Turn off the heat, add saffron strands, nutmeg powder and cardamom powder. Mix thoroughly.

Transfer to a large plate and let it cool for approx. 8-10 minutes. When the mixture is slightly warm, proceed to next step.

Add powdered sugar and mix.

Mix until sugar is properly blended with roasted flour and mixture turns smooth.

Divide it into 8 small equal portions and give them a shape of laddu.

Garnish besan laddus with almond slice and pistachios and let them cool at room temperature. Serve with snacks or store them in an airtight container.
Tips and Variations:
Add 1/2 cup coarsely ground besan flour and 1/2 cup smooth gram flour instead of 1 cup smooth flour to get the crispy texture of  laddus.
Serving Ideas:
It can be served with dry Indian snacks during festivals like Janmashtami, Diwali etc. It can also be served as a regular sweet to celebrate any occasion.