Bhel Puri is one of the popular chaat in India and it is a delicious mixture of puffed rice, sev, tomato, potato, onion and sweet-sour-spicy chutneys. Follow this instant and easy recipe and make yummy Bombay bhelpuri chaat at home in just few minutes.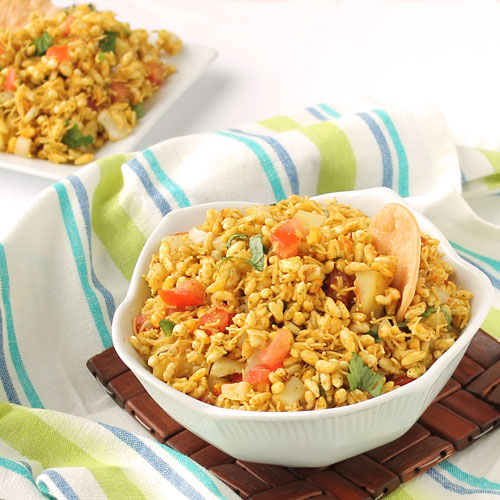 More Snacks Recipes
Preparation Time:
20 minutes
Ingredients:
8 Papadis (flat puri/chaat puri)
2 cups roasted or plain Puffed Rice (kurmura/mamra)
1/2 cup Nylon Sev
1/3 cup boiled and chopped Potatoes
3 tablespoons finely chopped Onions
1/3 cup finely chopped Tomato
1 Green Chilli, seeded and finely chopped, optional
1½ tablespoons Khajur Imli Chutney (Date Tamarind Chutney)
1 tablespoon Green Chutney
1 teaspoon Garlic Chutney, optional
2 tablespoons chopped Coriander Leaves
1/2 teaspoon Chaat Masala Powder
How to roast puffed rice?:
Heat 2 teaspoon oil in a heavy based kadai over medium flame. Add puffed rice, a pinch of turmeric powder and salt. Stir and roast it until crispy for around 3-4 minutes. Transfer them in a bowl after roasting to prevent it from burning.
Directions:
Make all the chutneys by following their recipes. Mix 1 teaspoon prepared garlic chutney with 1 teaspoon water to dilute it. Prepare all the ingredients required to make the bhel puri.

Take puffed rice in a large bowl.

Add chopped potatoes, chopped tomatoes, chopped onion and chopped green chilli.

Add khajur imli chutney, green chutney and garlic chutney.

Add nylon sev and chaat masala powder.

Mix all ingredients together with a large spoon. Taste the prepared bhel and if required, add more garlic chutney for garlic flavor and spiciness, khajur-imli chutney for mild sweet-tangy taste and green chutney for spiciness.

Garnish with coriander leaves. You can either add crushed papdi or serve it with whole papdis according to your choice. Bhel puri is ready. Divide it into 2 equal portions and transfer to serving plates. Serve it immediately because it will turn soggy within few minutes.
Tips and Variations:
If you want to serve bhelpuri in party, then do not mix all ingredients together. Serve all ingredients in 4 serving bowls as given below and let guests assemble it themselves according to their taste.
– Keep mixture of potato, tomato, onion, chilli and chaat masala in one bowl.
– Keep mixture of puffed rice, nylon sev and crushed or whole puris in another bowl.
– Keep all chutneys in individual bowls.
Add lemon juice, chopped raw green mango for a tangy taste.
Adjust the quantity of chutneys according to your palate.
Taste:
Sweet, sour and spicy
Serving Ideas:
Serve this bombay style chaat as afternoon snack.