Dosa, Idli, Vada and many other Indian foods become tastier and enjoyable with many types of chutneys and Groundnut Chutney is one of the best one. It converts your dull food into sumptuous food and adds healthy punch as it's prepared using groundnut, chana dal, green chilli and other spices. Follow the below given recipe with step by step photos to make this chutney at home.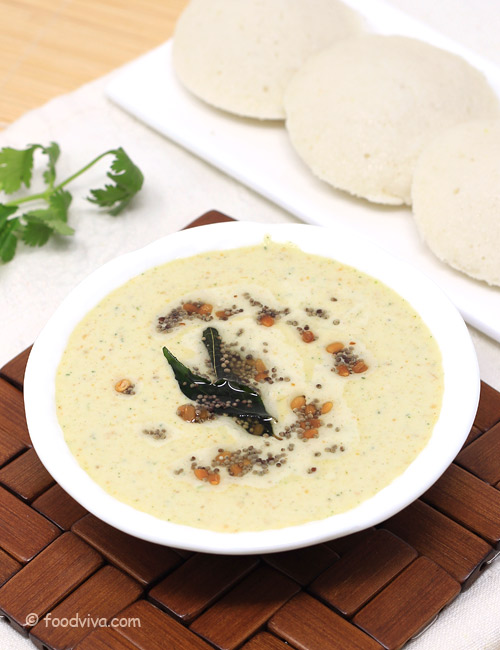 More Chutney Raita Recipes
Preparation Time:
5 minutes
Ingredients:
1/2 cup Roasted Peanuts (skin removed)
1 tablespoon Chana Dal(split chickpeas) or Roasted Chana Dal
1/2 teaspoon Cumin Seeds (jeera)
1 small clove of Garlic, optional
1 Green Chilli (halved)
4-5 Curry Leaves, optional
1 teaspoon Lemon Juice or 1/2 teaspoon Tamarind Paste
Salt to taste
1/3 cup Water (or as needed)
1 teaspoon Oil
For Tempering:
1/4 teaspoon Urad Dal (black lentils without skin), optional
1/2 teaspoon Mustard Seeds
3-4 Curry Leaves
1 teaspoon Oil
Note:
If you are using roasted chana dal, then skip step-1 and 2.
Directions:
Heat 1 teaspoon oil in a pan or a kadai over medium flame. Add 1 tablespoon chana dal.

Saute until it turns light golden and nice aroma comes. Add 1/2 teaspoon cumin seeds, 1 small clove of garlic, 1 green chilli and 4-5 curry leaves.

Saute for a minute over low flame.

Remove pan from the flame and let the mixture cool at room temperature. Transfer mixture to the small jar of a mixer grinder.

Add roasted peanuts, lemon juice and salt.

Grind until medium coarse texture.

Add 1/3 cup water (or little less for thick chutney) and grind until smooth. Taste for the salt and lemon juice and add more if required. Transfer it to a bowl.

Let's prepare the tempering. Heat 1 teaspoon oil in the same pan over medium flame. Add 1/4 teaspoon urad dal, 1/2 teaspoon mustard seeds and 3-4 curry leaves. When urad dal turns light golden brown, turn off the flame.

Immediately pour the tempering mixture over chutney. Peanut chutney is ready for serving.
Serving Ideas:
It can be served as a spicy accompaniment with meal. Mix it with curd to make a delicious dip for Kabab, Pakora, Khakhra, Dhokla, etc.
Tips and Variations:
You can use both types of roasted groundnuts, with skin and without skin.
If roasted groundnuts are not available, then roast them in a pan and then remove the skin.
Adjust the quantity of green chilli according to your taste to make it more or less spicy.
You can also use mortar and pestle in place of grinder to make groundnut chutney if you do not want it to be very smooth textured. Do not add water if you are using mortar and pestle to prepare it.
Add 2 tablespoons fresh or dry coconut in step-6 for variation.