Masala Khichdi is a healthy but spicy variation of simple rice khichdi wherein rice and couple of types of dals (lentils) are sautéed in ghee and typical Indian curry spices before pressure cooking. This ultimate comfort food of Indian cuisine requires knowledge of how to cook using pressure cooker and can be easily prepared at home by following the step by step photo method and enjoyed with curd, vegetable salad and papad. You can also cook this recipe in a deep pan but it will take more time to cook compared to pressure cooker.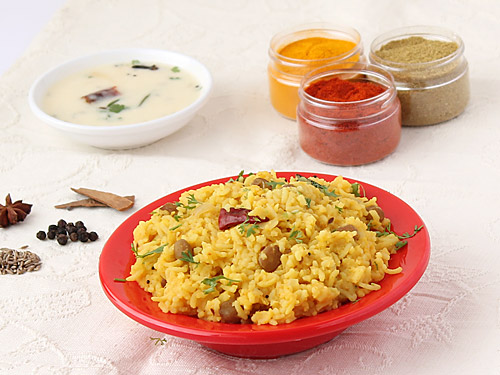 Preparation Time:
20 minutes
Ingredients:
1/2 cup Rice
2 tablespoons Moong Dal (split green grams)
2 tablespoons Toor Dal (split pigeon peas)
1 medium size Onion, finely chopped
2 tablespoons Peanuts
2 cups Water
2 tablespoons Ghee
1/4 teaspoon Mustard Seeds
1/2 teaspoon Cumin Seeds
2 Cloves
1 Cinnamon stick, broken into 2 pieces
1 small piece of Bay Leaf
4 Black Peppercorns
1/2 Star Anise
1 Dry Red Chilli, broken into halves
1/2 teaspoon Red Chilli Powder
1/4 teaspoon Turmeric Powder
1 tablespoon finely chopped Coriander Leaves
Salt
Directions:
1. Wash rice, toor dal and moong dal and soak them together in water for 20 minutes. Drain and keep aside until needed.

Heat 2 tablespoons ghee in a steel/ aluminum pressure cooker (3-4 liter capacity). Add mustard seeds and let them crackle. Add cumin seeds, cloves, cinnamon, bay leaf, black peppercorn, star anise, dry red chilli and peanuts; sauté for a minute.

Add chopped onion and sauté until onion turns light brown or for approx. 1-2 minutes.

Add drained rice, toor dal, moong dal, red chilli powder, turmeric powder and salt. Sauté for 1 minute.

Add 2 cups water, mix well and close the lid. Pressure cook for 3 whistles (1st whistle on high flame and remaining 2-whistles on medium flame).

Turn off flame and let steam pressure inside pressure cooker comes down naturally. Open the lid carefully. It will take approx. 6-8 minutes.

Transfer masala khichdi it to a serving bowl and serve it with plain curd/yogurt or onion raita and papad.
Tips and Variations:
If you are making it in less quantity and using small pressure cooker (2-3 liter capacity), then cook it over low flame.
Add finely chopped potatoes and chopped vegetable of your choice for variation.
This recipe uses ghee to get a nice aromatic flavor. However, you can also prepare it by sautéing rice and lentils in butter or cooking oil.
Taste:
Soft and spicy with nice aroma of spices and ghee
Serving Ideas:
Serve masala khichdi with Punjabi kadhi or Gujarati kadhi, papad and salad as a light and healthy dinner. It also tastes best on its own with pickle and plain curd.