Mexican Rice Pudding (Arroz con leche) Recipe
Give yourself a treat of Latin American food with Mexican rice dessert. The arroz con leche, a mexican style rice pudding is a perfect holiday dessert which is not just easy to prepare but healthy as well. This recipe uses short grain white rice, whole milk, condensed milk, raisins and cinnamon stick to get the best flavor and creamy texture.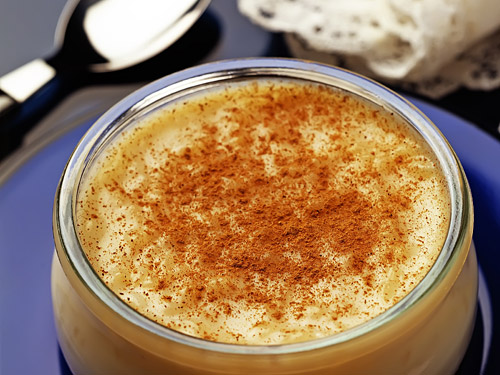 More Pudding Recipes
Preparation Time:
5 minutes
Ingredients:
1 Cinnamon Stick
1 cup White Rice (short grain or medium grain)
2½ cups Whole Milk
1 cup (250 ml) Condensed Milk
1/4 cup Raisins
1/2 teaspoon Ground Cinnamon
3 cups Water
Directions:
Wash rice for 2-3 times in water and drain.
In a large heavy bottomed pot, add water, cinnamon stick and washed rice and bring it to boil over medium heat.
When it starts to boil, reduce heat to low and cook covered until almost all water is absorbed and rice grain is tender or for around 20 minutes. Stir in between occasionally. Do not worry if some water is remaining after 20 minutes.
Remove cinnamon stick and stir in whole milk, condensed milk and raisins and bring it to boil over medium heat. Reduce heat to low and cook until it has a creamy and semi thick consistency, stir regularly while cooking.
If you like to serve it warm, then cook until thick consistency. If you want to serve it cold, then cook until semi thick consistency (keep some liquid) as it thickens when cools.
Transfer it to serving bowls and sprinkle some ground cinnamon.
Authentic Mexican rice pudding is ready to delight your palate.
Tips and Variations:
If you use long grain rice, then pudding will have a bit different texture.
Taste:
This sweet and creamy dessert has a soft and dense texture with a mild touch of cinnamon flavor. The raisins add a chewy surprise to it while condensed milk adds creaminess.
Serving Ideas:
Serve it for dessert or breakfast. It is a sweet delight to palate at any time of the day.