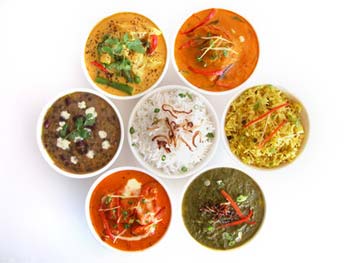 Tomato basil soup, a classic combination of taste and health in a bowl, is a must try soup recipe. This recipe uses combination of fresh tomatoes and tomato juice to fine balance the taste and ease of cooking. The basil brings subtle but noticeable spiciness while heavy cream brings in certain creaminess. Also, it is recommended to use olive oil but you can use any cooking oil of your choice.
More Soup Recipes
Preparation Time:
10 minutes
Ingredients:
5 large Fresh Tomatoes, peeled, seeded and chopped
4 cups Tomato Juice
2 Garlic cloves, crushed
1/2 cup loosely packed Fresh Basil Leaves
1/4 cup Heavy Cream
1 tablespoon Olive Oil
Freshly Ground Black Pepper, to taste
Salt, to taste
Fresh Basil Leaves, thinly sliced, for garnishing
Directions:
Heat oil in a large soup pot on medium heat.
Add crushed garlic and sauté for 30 seconds, make sure that it does not burn.
Add chopped tomatoes, tomato juice and salt and bring it to boil.
When mixture starts to boil, reduce heat to low and cook until it thickens, approx. 20-25 minutes. Stir in-between occasionally.
Turn off heat and stir in basil leaves. Puree the mixture using hand blender or in a food processor.
Stir in heavy cream and season with ground black pepper to taste.
Ladle it into individual serving bowls and garnish with sliced basil leaves by placing them in the center.
Tomato basil soup is ready, serve it immediately.
Tips and Variations:
Garnish with grated cheese for variation.
You can also add 2-cups vegetable stock and 2-cups tomato juice (instead of 4 cups) for healthier variation.
Serving Ideas:
Serve it with toasted bread for dinner. ENjoy it as a comfort food to warm up the body during winter. Kids love to have a tangy creamy soup and it's healthy as well; serve it to kids whenever they are hungry.