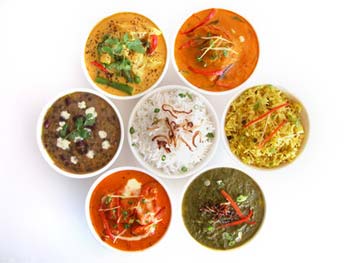 Fire up your appetite with steamy and healthy corn chowder soup. This recipe is not just easy to prepare but also a healthy one. This soup is primarily prepared in corn growing countries in the world but now popular in almost every part of the world. It tastes best with roasted breads.
More Soup Recipes
Preparation Time:
10 minutes
Ingredients:
2 cups fresh or frozen Corn Seeds
2 Garlic cloves, finely chopped
1 Green Chilli, finely chopped
1/4 cup grated Carrot
1/4 cup grated Cabbage
2 tablespoons Corn flour
1/4 teaspoon Black Pepper Powder
2 tablespoons Butter (or margarine)
2 cups Milk
3½ + 1/2 cups Water
Salt
Directions:
Boil corn seeds in a pressure cooker with 3½ cups water.
Cool them at room temperature. Drain and take out 1/2 cup boiled corn seeds and blend remaining corn seeds with leftover water in a mixer until smooth gravy. Strain it through strainer and discard the solids.
Dissolve corn flour in 1/2 cup water in small bowl.
Heat 2 tablespoons butter in a pan on low flame. Add chopped garlic and sauté for 20-30 seconds.
Add boiled corn seeds, grated carrot, chopped green chilli and grated cabbage. Sauté for 1-2 minutes.
Add dissolved corn flour and mix well.
Pour milk in small amounts repeatedly while stirring continuously to avoid lumps. Cook for 4-5 minutes.
Add corn mixture (prepared in step 2) and salt, cook on medium flame until it starts to boil.
Turn off flame and add black pepper powder for nice flavor.
Steamy hot and creamy corn chowder soup is now ready to be served with bread.
Tips and Variations:
If you want to use fresh corn, then boil maize and then remove corn seeds.
For variation, add vegetables of your choice like celery, green peas, capsicum, etc in step-5.
Add 1 teaspoon chilli sauce for a spicy taste.
Taste:
Creamy and soothing taste of corn with aroma of butter and black pepper.
Serving Ideas:
Serve it as an appetizer for lunch or dinner. If you want to eat something light in dinner then serve it with vegetable salad or bread.