Every sip of warm and healthy vegetable soup is a divine experience during cold winter days. This recipe uses variety of vegetables and vegetable stock to make it more healthy and tasty. This simple yet flavorful soup recipe is not just easy to follow but also customizable to bring in your favorite taste with selected veggies. It calls for using fresh vegetables for best results; however, you can also use canned ones.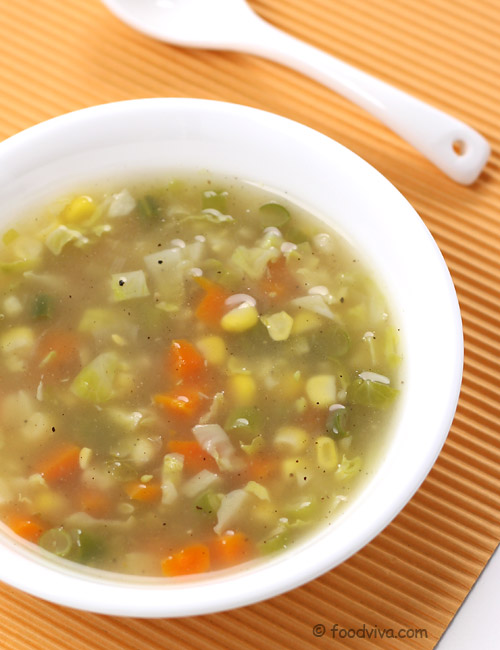 Preparation Time:
10 minutes
Ingredients:
2 tablespoons chopped Spring Onion (or normal onion)
2 teaspoons minced Garlic
1/3 cup chopped Carrots
1/3 cup chopped Green Cabbage
1/3 cup Sweet Corn Kernels
1/3 cup chopped French Beans
1/4 teaspoon Ground Black Pepper
1/2 tablespoon tablespoon Vinegar
2 tablespoons Cornstarch (white corn flour)
1/2 tablespoon Butter or Oil
2½ cups Water or Vegetable Stock
Salt to taste
Directions:
Chop all the veggies (carrot, cabbage, french beans, onion and garlic) into small pieces as shown in the picture.

Add 2 tablespoons cornstarch (corn flour) in a small bowl.

Add 3 tablespoons water and mix well.

Heat 1/2 tablespoon oil or butter in a large, heavy bottomed stockpot over medium flame. Add chopped onion and garlic.

Sauté for 1-2 minutes.

Add carrots, cabbage, sweet corn kernels, french beans and salt (only for veggies).

Stir and cook for 3-4 minutes.

Add 2½ cups water or vegetable stock. Stir well and bring the mixture to a boil. When it starts boiling, add salt (add as required as we have already added salt for veggies).

Add black pepper powder.

Add cornstarch-water mixture and stir continuously for a minute to prevent lump formation.

Stir and cook until mixture turns thick and no raw smell of cornstarch. It will take around 7-8 minutes. Add vinegar and mix well.

Taste the soup for the seasonings at this stage and add more if required. Turn off the flame. Transfer hot soup of vegetables into individual serving bowls and serve.
Tips and Variations:
This recipe is so flexible and customizable that you can add/remove any vegetable you like to get your desired taste. You can add zucchini, green bell pepper, green peas, cauliflower, tomato etc.
Cornstarch is added to thicken the soup. If you like watery soup, add 1/2 tablespoon less cornstarch.
Taste:
Very mild spicy and salted with lots of fresh veggie flavor and a mild hint of butter.
Serving Ideas:
Fresh and best vegetable soup is more enjoyable during cold winter evenings and mornings as a snack or a healthy breakfast. It does not require any special occasions to savor its goodness. Serve it as a starter for lunch or dinner and it's an ideal stomach filling low calorie food item for weight loss diet as it supplies all required nutrients to body minus calories.