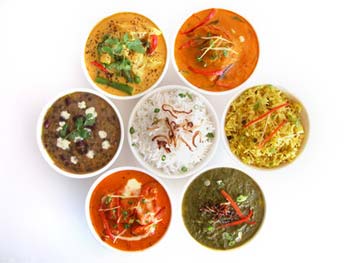 Whether you are on a diet or not, healthy cabbage soup is for everyone who loves to eat green vegetables in one or the other form. This healthy soup recipe uses green cabbage and vegetable broth to bring in low calorie factor and it uses olive oil, onion, garlic, carrot and spices to make it nutrients balanced and palatable. Either follow this recipe for healthy, low calorie, tasty soup as it is or customize it the way you want it; either way, you are going to love this simple comfort food.
More Soup Recipes
Preparation Time:
10 minutes
Ingredients:
1/2 head medium size Green Cabbage, coarsely chopped
1 medium size Onion, chopped
2 Garlic cloves, minced
1/4 cup finely chopped Green Onion
1/4 cup finely sliced Carrot
1/4 cup Tomato Puree
4 cups Vegetable Broth
1/2 tablespoon Olive Oil or Vegetable Oil
1/4 teaspoon Freshly Ground Black Pepper
Salt to taste
Fresh Cilantro, chopped, for garnishing
Directions:
Heat olive oil in a large stockpot over medium heat. Sauté onion and garlic until onion turns translucent, approx 1-2 minutes.
Add carrot and green onion and sauté for approx 3 minutes.
Add tomato puree, vegetable broth, cabbage, salt and black pepper; mix well and bring mixture to boil on medium heat.
When it starts to boil, reduce heat to low and simmer for a while. Stir and cook until cabbage and carrot turns tender or for around 10-15 minutes (it should be sufficient to tenderize cabbage and carrot; however, if required, simmer for few more minutes).
Turn off heat and transfer prepared soup into individual serving bowls.
Garnish with cilantro and serve hot.
Tips and Variations:
Use fresh basil or fresh oregano in place of cilantro for variation in this recipe.
Add green beans or zucchini for variation.
Use red cabbage as an alternative of green cabbage.
Taste:
Mild spicy and salty taste with natural and fresh mix vegetable aroma.
Serving Ideas:
Serve it as a healthy food with bread for light dinner or as stand-alone soup during the winter evenings. This green veggie soup is a perfect choice for low calorie cabbage diet for weight loss when prepared with 1/2 teaspoon low fat cooking oil.