It is a flavorful and creamy staple food every Punjabi grew up eating with. In this restaurant style recipe, soaked dals and rajma are cooked in pressure cooker until soft and then they are tempered with spices and mixed with fresh cream. The calcium and protein rich whole urad dal, chana dal, rajma, butter, fresh cream and spices makes it wholesome, nutritious and simply irresistible. Because of its ease of preparation, wholesome goodness and flexibility in choosing locally grown lentils, it has become popular vegetarian dish in all parts of India with even few naming it as Maa ki Daal.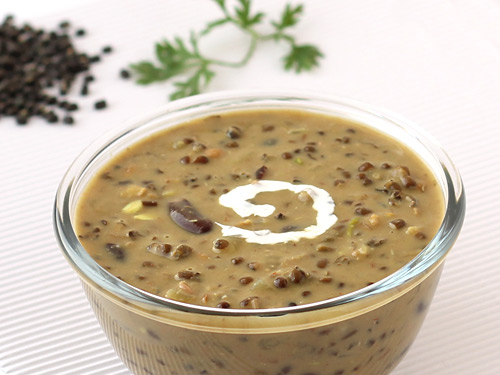 More Punjabi Recipes
Preparation Time:
15 minutes
Ingredients:
1/2 cup Whole Black Urad Dal (black lentils), soaked in water for 6-8 hours
3 tablespoons Rajma (red kidney beans), soaked in water for 6-8 hours
2 tablespoons Chana Dal (Bengal gram), soaked in water for 6-8 hours
1/2 teaspoon Cumin Seeds
1 large Onion, finely chopped
1 teaspoon grated Ginger
3-4 cloves of Garlic, crushed
2 Green Chillies, finely chopped
1/4 teaspoon Turmeric Powder
1/2 teaspoon Coriander Powder
1 medium Tomato, finely chopped
2 tablespoons Butter (makkhan)
3 tablespoons Malai (fresh cream)
2 tablespoons finely chopped Coriander Leaves
Salt
1 tablespoon Oil
2 cups + 1 cup Water
Directions:
Drain excess water from soaked dals and rajma. Add soaked black urad dal, chana dal and rajma, 2-cups water and salt in 4-5 liter capacity aluminum or steel pressure cooker. Close the lid and pressure cook them over medium flame until 1-whistle, then reduce flame to low and cook for 4-5 whistles.

Turn off flame and let it sit idle and pressure release naturally, approx. 6-8 minutes. The dals and rajma should have turned softer now, open the lid and lightly mash dals with a large spoon. Do not mash completely, there should be some whole dals and rajma present after mashing, it will give the right texture.

Heat oil in a pan over medium flame. Add cumin seeds and allow them to sizzle. Add chopped onion and sauté until it turns translucent. Add grated ginger, crushed garlic and chopped green chilli, sauté until garlic paste turns light brown, about half minute.

Add and mix turmeric powder and coriander powder.

Add chopped tomato and cook until they turn soft, about 2-minutes.

Add cooked dal, salt (only if required, because we have already added it in dal while pressure cooking) and 1-cup water. Let it cook over medium flame for 4-5 minutes or until you get the desired consistency.

Add butter, mix well and cook for 2-minutes.

Add fresh cream.

Mix well and cook for a minute.

Do not cook for long time after adding cream otherwise it may curdle. Remove pan from flame.

Transfer prepared dal to serving bowl. Garnish with chopped coriander leaves or milk cream and serve hot.
Tips and Variations:
If fresh cream is not available then add 3/4-cup full cream milk and reduce the quantity of water to 1/4 cup in step-6.
Butter and cream are used to get a nice creamy texture as well as flavor. If you are health conscious, then reduce their amount but it may change the taste.
Protein rich and nutritious makhani dal is suitable to be served to children along with paratha. Avoid green chilli if you are preparing it for kids.
Taste:
 Mild spicy with creamy texture
Serving Ideas:
 This Punjabi dal makhani goes well with steamed rice or paratha as a meal for healthy lunch.