Homemade vegetable broth is flavorful, easy to make and far healthier than the ready-made one which tastes just little more than salted water. Making it at home is extremely easy and does not require any expert cooking skills. With its uses not just limited to soups and its capability to put all leftover and about to go waste vegetables to better use, it's one of the most economical recipe to follow. You can even tweak ingredients of this recipe to make it organic or low sodium or thick. Discover how to make it with whatever vegetables you may have with this easy recipe.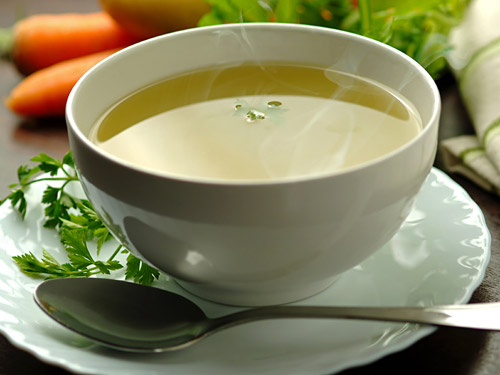 More Soup Recipes
Preparation Time:
15 minutes
Ingredients:
1 cup roughly chopped Carrots
1 cup roughly chopped Celery (includes leafy greens)
1 cup roughly chopped Tomato
1/2 cup roughly chopped Zucchini
1/2 cup roughly chopped Broccoli
1/2 cup chopped Mushrooms, optional
2 tablespoons chopped Onion
3 Garlic cloves, minced
1 tablespoon roughly chopped Fresh Parsley*
1 tablespoon roughly chopped Fresh Basil*
1 Bay Leaf
10 cups Water
Salt and Pepper to taste
Directions:
Place all roughly chopped vegetables in a stockpot.
Add fresh basil, fresh parsley, garlic, onion, bay leaf, salt and pepper, Pour water, mix well and bring mixture to boil on medium heat.
When water starts to boil, reduce heat to low and cook for an hour. Stir occasionally in between.
Takeaway pot from heat, strain and discard vegetable pieces. (See tip below for their additional usages.)
Let vegetable broth cool at room temperature. Use it immediately or store it in refrigerator for up to 3 days for anytime use. You can also store it in container or ice tray in freezer for up to 1 month.
Tips and Variations:
* If fresh herbs are not available then you can replace them with 1 teaspoon dried herbs. However, fresh one will give more flavor than the dried one.
Add any herbs of your choice like parsley, thyme, basil, oregano, etc. for variation.
Use only carrots, onion, celery, garlic and herbs to make a basic broth.
This is a very flexible recipe. You can add any vegetables such as cabbage, spinach, mushroom, bell pepper, potato, fennel bulbs to prepare it.
Mushrooms make it richer, thicker and darker. You can use white button mushrooms to make light color broth and use Portobello's to make dark color broth.
Do not discard vegetable pieces, use them to make a curry or have it as a healthy snack with some herbal seasoning.
Taste:
Nice flavor of fresh herbs and vegetables
Serving Ideas:
Use it to prepare variety of vegetarian soups, vegetarian curry gravy or any recipe which demands for using vegetable stock. Use it for cooking pasta or rice and enhance their flavor.