Cream of mushroom soup, a divine experience in every sip, is even more irresistible when it's homemade and customized to your liking. This homemade recipe not only tells you about how to make best soup with mushroom at home in easy to follow steps but also gives tips on how to enhance its taste, flavors and use leftovers. This step by step photo recipe uses simple spices to bring out the rich flavors and uses milk and heavy cream to get the thick and creamy texture.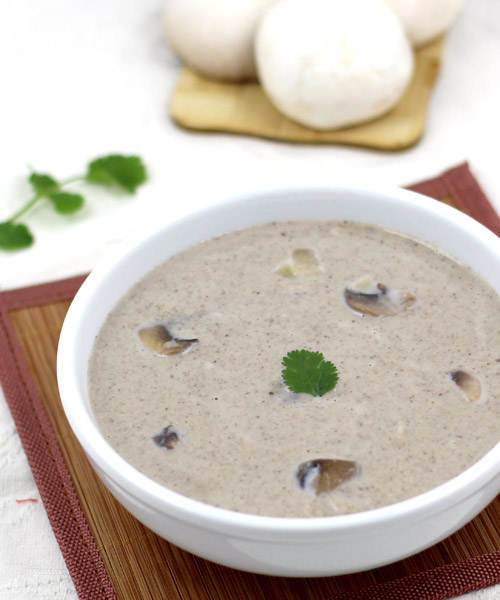 More Soup Recipes
Preparation Time:
10 minutes
Ingredients:
250 gms Button White Mushrooms
1 tablespoon Butter
1 small Onion, chopped
2-3 Garlic Cloves, minced
1 tablespoon All Purpose Flour (maida)
1 cup Water
3/4 cup Milk
2 tablespoons Heavy Cream, optional
Salt to taste
Dried Thyme or Fresh Coriander Leaves (cilantro), for garnishing
Directions:
Wash the mushrooms in a large bowl of a water to remove any dirt. Dry them with a kitchen towel. If the outer skin of mushrooms is too dirty then peel them after washing otherwise no need of peeling. To peel them, gently remove the stem and then start peeling it from the bottom side (inside). Just grab some skin from inside edge and lift upward to peel. Do this process until whole mushroom is peeled. Slice the cleaned mushrooms.

Heat butter in a saucepan over medium flame. Add chopped onion and sauté until it turns light brown. Add minced garlic and sauté for few seconds.

Add sliced mushrooms and salt.

Cook them until they turn soft, stir frequently in between. They will shrink and release water as mushroom has around 90% water content.

When almost water is evaporated, remove 2-3 tablespoon mushroom and keep aside. Add all purpose flour.

Stir and cook for a minute.

Add water in it and stir constantly to prevent lump formation of flour. Add milk, stir well and bring it to boil over medium flame. Cook for around 5-6 minutes.

Remove pan from flame and let cool for around 5-7 minutes. Blend it using immersion blender (hand blender) or transfer it to a blender jar or food processor and blend until smooth. Take extra care while blending the mixture because it is hot.

Transfer crushed puree to the same pan. Boil it for around 2-3 minutes or until desired consistency.

Turn off flame and add preserved cooked mushroom (in step-4) and fresh cream. Pour it into individual serving bowls and garnish with coriander leaves or dried thyme. Best cream of mushroom soup is ready to delight your taste buds.
Tips and Variations:
You can use chicken stock or vegetable stock instead of water.
There is no need to strain the mixture after blending but if you like, strain the mixture to give it more consistent and creamy texture.
Add fresh parsley in this recipe to enhance its flavor.
If you want more creamy texture then add more fresh cream.
Leftover soup can be used as gravy for vegetables and pasta dishes.
Serving Ideas:
Enjoy it as comfort food during winter evenings or as an appetizer for multi course meal. Due to its thick and heavy texture, it is a best healthy soup to quickly satisfy the hunger.