It's hard to image any Diwali go by without someone offering you a Kaju Katli; it's a one of the most appreciated sweets of Indian cuisine. Contrary to popular belief, it's one of the easiest sweet recipes to follow, requires only three ingredients and knowledge of very basic cooking techniques to make perfectly healthy sweet at home and enjoy it without worrying about adulterations that you keep hearing about now a days for store bought ones. Traditionally, this soft and sweet kaju barfi is garnished with silver vark (varakh) and it can be easily found in most of the Indian sweet shop. With step by step photos and cooking tips of this recipe, preparing it at home and surprising your family is super easy.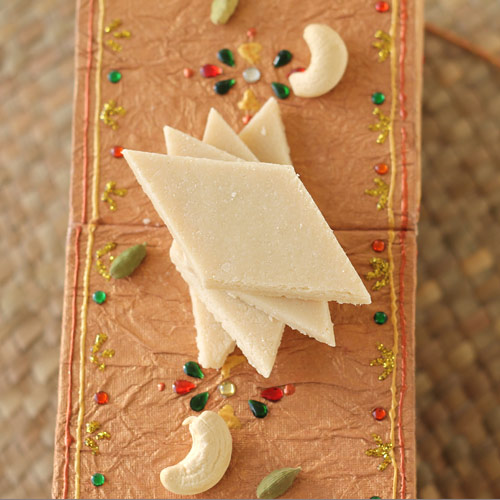 More Desserts Sweets Recipes
Preparation Time:
10 minutes
Ingredients:
1 cup Cashew Nuts (Kaju)
1/2 cup Sugar
1/4 teaspoon Cardamom Powder
1/4 cup Water
Ghee, for greasing
Directions:
(If you are using frozen/cold cashew nuts, bring them to room temperature before grinding.) Transfer cashew nuts to the small jar of a mixer grinder and grind until smooth powder. Do not grind cashew nuts too much otherwise it will start to ooze oil and it makes powder sticky. If required, scrape the sides with spatula and pulse again.

Add sugar and water in a pan and cook it over medium flame.

Stir continuously and cook until sugar dissolves completely.

Cook until syrup turns thick and little sticky. Do not wait until the syrup reaches to the 1-string consistency because if it is cooked more than 1-string consistency, the kaju katli will turn hard.

Reduce heat/flame to low and add cashew nut powder and cardamom powder.

Stir with spatula and mix properly.

Cook and mix continuously until mixture thickens and turns into a big single lump – it will take around 5-7 minutes to reach this stage. Don't over cook the mixture. Turn off the flame and let it cool for 3-4 minutes.

Grease the back side of thali with ghee in the meantime. Transfer prepared mix over greased surface. Grease your palms with ghee and knead it for few minutes until it has smooth surface while it is still warm. If mixture turns dry, add few drops of milk and knead it to make it smooth.

Roll it out into 1/3 inch thick round shape using a rolling pin.

You can also place butter paper over it to prevent dough sticking to rolling pin and easy roll out.

Cut it using knife into diamond shape pieces. Let it cool for 3-4 minutes. Separate the pieces and enjoy your favorite Kaju Katli. It stays good for 5-6 days at room temperature and for 20-25 days in refrigerator.
Tips and Variations:
Make sure that cashew nuts are at room temperature before grinding.
Add the cashew nut powder immediately as the syrup turns little sticky and thick. This will prevent Kaju Katli from turning the crumbly after cooking.
If the mixture turns hard after cooking (in step-8), add few drops of milk and knead until smooth. If you add the milk, shelf life of kaju barfi will decrease and you need to store it in an airtight container in the refrigerator if you are not planning to consume it same day.
Do not over cook the mixture after it turns thick (in step-6) otherwise kaju katli will turn hard once it cools down after rolling.
To give it a tempting look, use silver vark (varakh) for garnishing.
Taste:
Sweet with mild cardamom flavor
Serving Ideas:
Serve this diamond shaped sweet with savory snacks like chivda,
namak para
, gathiya,
farsi puri
etc.