Sukhdi (Gol Papdi/Gur papdi) is a traditional Gujarati sweet usually made in winter months which is so flavorful and has a soft melt in mouth texture. It is made with only 3 Ingredients – whole wheat flour, jaggery(gur/gud), and ghee and the whole process takes only 12-15 minutes. This sweet is the best snack option for kids lunchbox and kids afterschool snack as it's stomach filling and nutritious.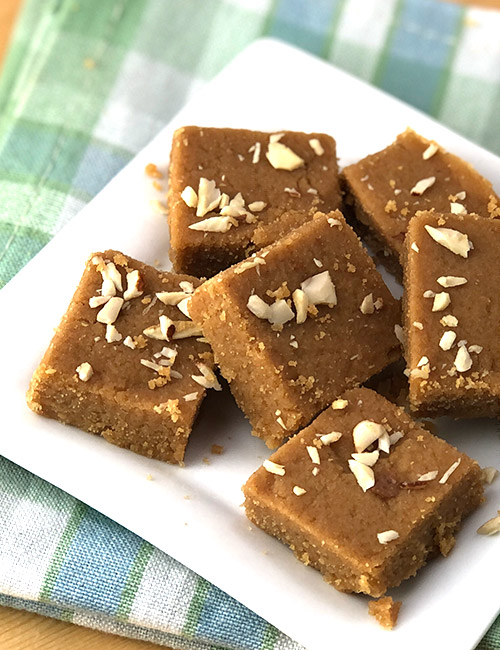 More Desserts Sweets Recipes
Preparation Time:
5 minutes
Ingredients:
1 cup Whole Wheat Flour (chapati atta)(approx. 130 gm)
1/2 cup grated or finely chopped Jaggery (gud/gol) (70 gm)
1/2 cup Ghee (clarified butter) (125 gm)
2 tablespoons chopped Mixed Dryfruits, optional
Directions:
Keep all the ingredients ready. For jaggery, either grate it or finely chop it.

Grease a small plate (4-5 inch diameter) with ghee.

Heat 1/2 cup ghee(clarified butter) (125 gm) in a heavy based pan over medium flame.

When the ghee is melted, add 1 cup whole wheat flour(chapati atta) (approx. 130 gm).

Stir it with a spoon and mix well. It will be like a thick lumpy paste.

Stir continuously and roast it over low-medium flame until the flour turns golden and a nice aroma releases. It will take approx.5-7 minutes. When the flour is roasted well, the mixture will turn runny, ghee will start to ooze out and you will feel light when you stir it.

Turn off the flame.

Let the mixture cool down for a minute. Add 1/2 cup grated or chopped jaggery (gud/gol) (70 gm).

Mix well. The jaggery will dissolve quickly.

When the jaggery dissolves completely, pour the mixture into a greased tray (thali).

Even out the top surface using a flat spatula or using the back of a bowl.

Sprinkle chopped dryfruits over it and press them with a spatula.

Let it cool down to room temperature. When it is a little warm, cut it into small squares/diamonds using a knife. When it cools down completely, store it in an airtight container.

Sukhdi is ready for serving. You can also serve it warm if you like.
Tips and Variations:
Make sure that the flour doesn't burn or turn brown while roasting.
Flour Roasting Time – It depends on the quantity of flour. It takes less time for smaller quantity.
Jaggery – If you are using hard jaggery, grate it using a grater or finely chop it. You can also use powdered jaggery.
To Prevent Sukhdi from turning Hard and Chewy – Don't add jaggery to the flour when the stove is on. When the flour is roasted well, turn off the stove and wait for a minute and then add the jaggery.
To make it flavorful, add cardamom powder (along with jaggery).