Mashed Potato Pancakes Recipe
Mashed Potato Pancakes, a delicious and easy finger snack, is a perfect party food or anytime snack made from mashed potatoes. It is generally served with variety of toppings and condiments ranging from sour cream, cottage cheese to even fruit syrups like apple and maple syrup. There is no other better way to use leftover mashed potatoes than making crisp and buttery pancakes from it.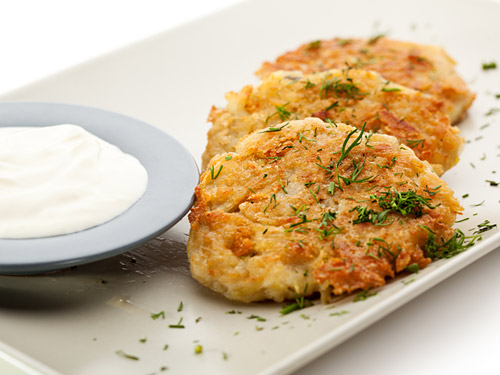 More Pancake Recipes
Preparation Time:
10 minutes
Ingredients:
2 cups boiled, peeled and mashed Potatoes
2 tablespoons All Purpose Flour
2 tablespoons Milk
2 Garlic cloves, crushed
1 tablespoon finely chopped Green Onion
1/4 teaspoon Ground Black Pepper
3 tablespoons Dried Breadcrumbs (or as needed)
2 tablespoons Unsalted Butter or Oil
Salt
Directions:
Combine mashed potatoes, milk, all purpose flour, crushed garlic, chopped green onion, ground black pepper and salt to taste in a bowl and mix well. If dough is too dry, then add additional 1 tablespoon milk.
Divide it into 8 equal parts and form 1/2-inch thick patties.
Roll patties through breadcrumbs.
Heat butter in a non-stick skillet over medium-high heat. Place 2-3 patties over butter and cook over medium-low heat until golden brown on bottom side. It will take about 3-4 minutes. Turn patties and cook another side until golden brown and crispy.
Transfer prepared pancakes to serving plate. Cook remaining patties.
Crisp mashed potato pancakes are ready to serve. Garnish with finely chopped cilantro or cheese and sour cream.
Tips and Variations:
If potato mixture is getting stuck to your fingers and prohibiting you from making patties, then grease your hands with oil.
Add parmesan cheese while making dough to make tasty cheese flavored pancakes.
Taste:
Mild spicy, crispy outside and soft inside.
Serving Ideas:
Serve it for breakfast.