Bisi bele bath, a traditional South Indian lentil-rice dish similar to
vegetable khichdi
, is a popular comfort food in Karnataka. This simple, healthy, and stomach filling food can be enjoyed either in lunch or dinner. This scrumptious spicy dish is also very easy to prepare; first rice and lentils are steam cooked individually and then they are cooked with mixed vegetables and
spicy bisi bele bath powder
. Enjoy this spicy sizzling dish with papad and raita for a healthy satisfying meal.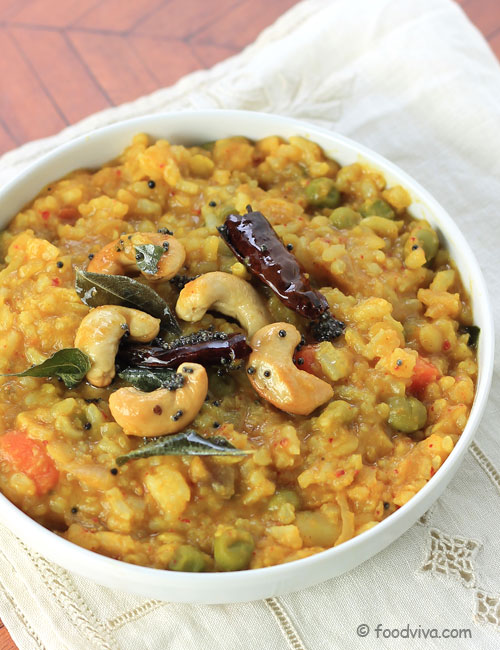 More South Indian Recipes
Preparation Time:
15 minutes
Ingredients:
3/4 cup Rice (short grained or basmati)
1/3 cup Toor Dal
2 teaspoon Oil
1 medium Onion (or 3-4 shallots), finely chopped
1/2 cup chopped Potato
1/2 cup chopped Carrot
1/3 cup Green Peas
1/4 cup sliced Capsicum, optional
4-5 French Beans, chopped
1 tablespoon seedless Tamarind
1 tablespoon Jaggery
2 tablespoons Bisi Bele Bath Powder
A pinch of Turmeric Powder, optional
Salt to taste
For Tempering (tadka):
1 tablespoon Ghee/Oil
½ teaspoon Mustard Seeds
1-2 Dry Red Chilli
1-2 sprig Curry Leaves
6-8 Cashew Nuts
A pinch of Asafoetida (hing)
Note:
Add approx. 2 cups chopped Mixed Vegetables of your choice (french beans, drum stick, capsicum, green peas, carrot, cabbage, potato, cauliflower). We used stackable cooker containers to steam-cook rice and lentils together to reduce cooking time. You can cook rice and lentils separately in cooker if you do not have stackable cooker compartments.
Directions:
Chop all vegetables.

Soak 1 tablespoon tamarind in 1/3 cup hot water for 10-15 minutes.

Wash rice and toor dal and soak them separately in water for 30 minutes. If you are in a hurry you can skip soaking rice and dal in water.

Pour 1-1.5 glass of water in the cooker and place a stand on the cooker bottom.

Transfer soaked rice in a cooker container and add 1¾ cups water and salt. Transfer soaked toor dal to another cooker container and add 1 cup water and salt. Place rice container over the stand and toor dal container over rice container in the cooker.

Close the lid and cook them for 3-whistles over medium flame. If you don't have cooker containers, cook them separately in cooker. If you have not soaked rice and dal, cook them for 4-whistles over medium flame. Turn off the flame. Let pressure inside cooker reduce naturally. Open the lid and take out the dal container.

Take out the rice container from the cooker.

Mash soaked tamarind and extract its juice by sieving it with a strainer. Discard the fibrous pulp.

Heat 2 teaspoons oil in a large kadai/pan/pressure cooker over medium flame. Add finely chopped onion and sauté until it turns light pink.

Add chopped mixed vegetables (potato, carrot, french beans, green peas, capsicum) and salt.

Sauté vegetables for 4-5 minutes.

Add 1 cup water and cook until vegetables turn soft; it will take around 7-8 minutes.

Add bisi bele bath powder, a pinch of turmeric powder, tamarind juice and jaggery. Mix well and cook for 3-4 minutes or until the raw smell of tamarind goes away.

Add cooked rice and dal.

Mix well. If mixture looks dry, add 1/2 cup water and mix well. Cook for 4-5 minutes or until you get the desired consistency. Taste for the seasonings and add more if required.

Meanwhile, prepare the tempering. – Heat 1 tablespoon ghee/oil in a small pan over medium flame. Add mustard seeds; when they begin to crackle, add dry red chilli, curry leaves, cashew nuts and a pinch of asafoetida. Cook until cashew nuts turn light golden.

Remove pan from the flame and immediately pour its content over cooked mixture and mix well. Turn off the flame. Bisi bele bath is ready for serving.
Tips and Variations:
Add vegetables of your choice and according to availability.
You can also cook rice and lentil together instead of cooking them separately or in separate containers.
If you have three containers of cooker, cook toor dal, rice and vegetables in three different containers at the same time to speed up the process.
Reduce the quantity of tamarind to make it less tangy.
Adjust the amount of bisibele bath powder to make bisibele bath as spicy as you want.
Serving Ideas:
 Serve hot bisibele bath with papad,
kara boondi
, raita and potato chips as a one pot meal in the dinner or as a part of the meal in lunch.