Idli Sambar, a soft and spongy round shaped steamed rice-lentil cake accompanied with
Sambar
and
White Coconut Chutney
, is a traditional and healthy breakfast from South Indian cuisine. Idli can be prepared from either plain rice or rice rava (aka Idli Rava or Cream of Rice), urad dal and fenugreek seeds. This recipe uses Rice Rava instead of Plain Rice to give it a grainier texture and Poha to make them extra soft. Since soaked rice rava is added into batter with very little to no grinding at all, Rice Rava Idli has grainy texture compared to the Idli made with rice. To make soft and spongy idli, its batter needs to be fermented; all ingredients are soaked in water, grounded individually into a smooth consistency, mixed and then allowed to ferment for 8 hours at room temperature; fermented batter is then poured into idli moulds and steam cooked – this Idli with Idli Rava Recipe explains this entire process with step by step photos.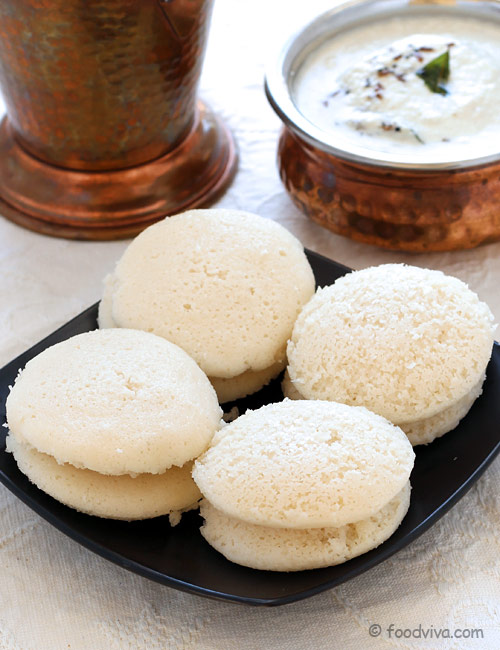 More South Indian Recipes
Preparation Time:
 5 hours soaking time + 8 hours fermentation time + 20 minutes
Ingredients:
1/2 cup Urad Dal (skinned black lentils)
2 cups Idli Rava (rice rava or cream of rice)
3 tablespoons Poha (aval/rice flakes)
1/4 teaspoon (approx. 8-10 seeds) Fenugreek Seeds (methi dana)
1/2 teaspoon Salt (or to taste)
Directions:
Rinse urad dal in water 4-5 times. Combine urad dal, fenugreek seeds and poha in container and soak in approx. 1¼ cups or water (urad dal mix should be completely sub-merged in water) for 4-5 hours.

Soaked dal volume would increased to almost double in 4-5 hours as shown in the photo.

Rinse and clean idli rava in water for 4-5 times; this step is required for making idli white. To rinse and clean rava, transfer it to vessel, pour almost double the amount of water over it, stir and swirl with a hand and drain the water. You will see water becoming cloudy for first 2-3 times. Soak rinsed rava in water for 4-5 hours. Water should just cover the rava (as shown in the photo).

Drain the excess water from urad dal mix. Do not discard the drained water, it can be used while grinding the batter. Place drained dal in the jar of a mixer grinder.

Grind it into a smooth paste, add water (drained in step-4) as needed while grinding the dal. The batter should be fluffy but not thick as shown in the photo.

Pour it into a deep large vessel (pot). We will ferment the batter in the same vessel and its size would increase, so make sure that vessel is sufficiently large.

Drain excess water from soaked rava, gently squeeze it using your hand and add it to the grinder jar.

Add water as needed and grind into a smooth batter. It will have medium coarse texture and it will not be as smooth as urad dal batter. Grinding the idli rava is an optional process; you can also add drained and squeezed rava directly in the ground urad dal batter.

Pour it over urad dal batter, add salt and mix well. Batter should not be very thin or very thick. Thick batter will not ferment well and idlis will turn hard, thin batter will ferment but idlis will turn flat while steaming.

Cover it with a plate and keep it in warm place for around 8 hours for fermentation. Batter's volume would increase after fermentation. Depending on the weather and room temperature, time required to ferment the batter could vary (around 30 degree Centigrade/85 degree Fahrenheit is ideal). In cold season, place covered batter in oven and keep the oven light on or keep it in warm place. 

Stir the batter gently with a large spoon. As you can see, the batter has tiny bubbles because of the fermentation.

Pour 1-2 glass water in a deep broad pan or a steamer and heat it over medium flame. Grease the idli mould with oil and pour batter in it.

Place the idli mould in steamer and cover with a lid. Steam it for 10 minutes over medium flame. After 10 minutes, insert a toothpick into the cooked idli and check if it comes out clean; if yes, then it is cooked; if not, then it is not cooked yet; steam it for few more minutes and check again.

Remove the idli moulds from the steamer and let them cool for few minutes. Remove the idli with a spoon and transfer to a plate. Serve hot idli with

Sambar

and

White Coconut Chutney

.
Tips and Variations:
Grinding the rice rava in step-8 is optional. If you like grainy texture of idli, then add the soaked and drained rice rava directly in to urad dal batter.
Grease the mold well before pouring the batter and let it cool for few minutes after taking it out from steamer to remove the cooked idlis easily from mould.
You can make idli without steamer by using a pressure cooker as steamer. Remove the whistle while steaming the idli and follow the steps mentioned above.
To make idlis white, rinse and clean rice rava in water for 4-5 times or until water doesn't turn cloudy.
Serving Ideas:
 Rice rava idlis tastes best when served with green/red/white coconut chutney, and mixed vegetable sambar as a south Indian meal or breakfast.