Lemon Water (Nimbu Pani, Limbu Sarbat, Lime Water) prepared with lemon, salt and sugar is a perfect drink for hot summer as it provides instant energy and hydrates body in no time. It also provides vitamin C and helps flush out toxins from body. Serve it to kids during their summer vacations as well as to patients recovering from dehydration.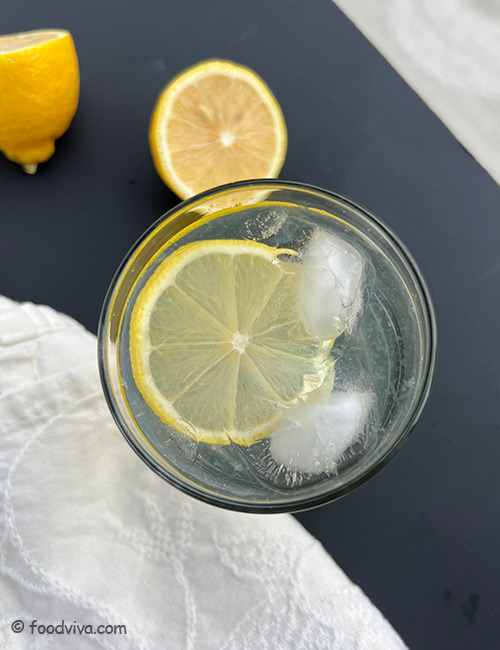 More Juice Recipes
Preparation Time:
5 minutes
Ingredients:
2 tablespoons Lemon Juice
1/2 teaspoon Salt
2 tablespoons Sugar
A pinch of Black Pepper Powder, optional
2 cups(500 ml) Water
2 Lemon Slices, for garnishing
4 Ice Cubes
Directions:
Lemon, sugar and salt are required for this recipe. You can use green lime instead of lemon in this recipe.

Pour 2 cups water in a medium pot or a jug. Add 2 tablespoons lemon juice, 2 tablespoons sugar and 1/2 teaspoon salt. Stir them using a spoon until sugar dissolves completely. (You can also use powdered sugar in place of whole sugar.)

Add a pinch of pepper powder and mix well. Taste the water and adjust the amount of sugar, lemon juice and salt as per your taste.

Add two ice cubes in each glass. Pour prepared lemon water over ice cubes. Garnish with a nimbu (lemon) slices and serve.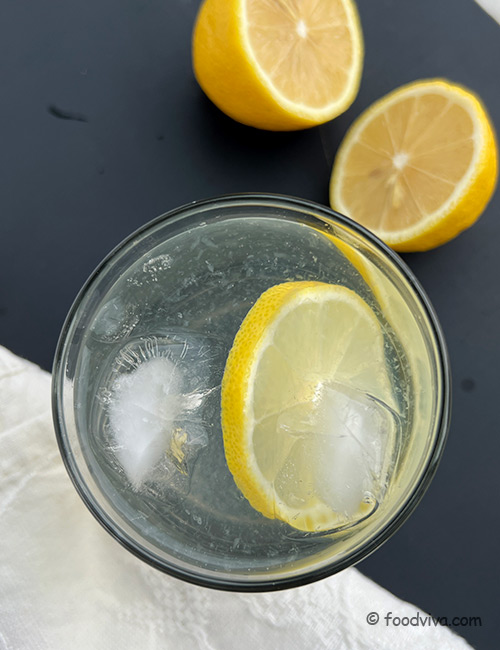 Tips and Variations:
Adjust the amount of sugar as per your taste.
You can use same amount of honey instead of using sugar.
For variation, add 1/2 teaspoon grated ginger and few mint leaves.
For plain simple lemon water, do not add any spices.
Taste:
Salty, Sweet and sour
Serving Ideas:
Serve it in the afternoon during hot summer instead of tea.