This is a delicious variation of routine Chinese fried rice in which paneer cubes are added and sautéed along with other spices and veggies. The secret of making restaurant like paneer fried rice at home lies in using moisture free cooked rice because moisture in freshly made steamed rice will cause it to steam instead of fry. Hence, it is important to use either leftover or pre-cooked rice in this recipe.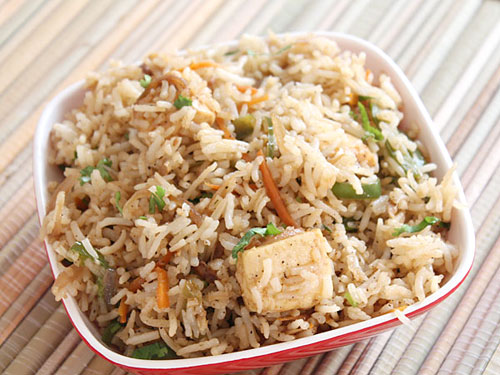 Preparation Time:
15 minutes
Ingredients:
2 cups Steamed Rice, cooled or leftover
1/2 cup Paneer, cubed
1 medium Onion, thinly sliced
1/4 cup Capsicum, thinly sliced
1/4 cup Carrot, thinly sliced
1/2 teaspoon grated Ginger
4 cloves Garlic, crushed or finely chopped
2 teaspoons Soya Sauce
1 teaspoon Chilli Sauce (optional)
1/4 teaspoon Black Pepper Powder
1 tablespoon Oil
Coriander Leaves, finely chopped
Salt to taste
Directions:
Heat oil in a wok or pan over medium flame. Sauté sliced onion, garlic and ginger for a minute.

Add carrot and paneer cubes; sauté for a minute.

Add capsicum and sauté until it turns little soft but still crispy.

Add salt, chilli sauce, soy sauce, black pepper powder; stir and mix well.

Add cooked rice and mix well. Taste for salt and add more if required. (If you are comfortable and have skill for tossing and cooking, then toss rice multiple times on high flame). Cook for 3-4 minutes.

Turn off the flame. Transfer it to serving plate and garnish with coriander leaves.
Tips and Variations:
If you do not have wok, then use thin bottomed pan.
Grain of cooked rice should be non-sticky. To make each grain separated, cook it in open pan with water and add few drops of lemon juice.
Use leftover rice for better results or cook rice 1-2 hours prior to making it.
Add green chilli in step 2 if you like spicy taste.
This recipe get its taste and flavor from soy and chilli sauce. You can change quantity of these two sauces to get desired taste.
Taste:
Mild spicy with nice flavor of soy sauce and sautéed spices.
Serving Ideas:
Enjoy paneer fried rice,
Chinese style gobi manchurian gravy
or
vegetable soup
as light dinner or lunch. It is easy to pack and carry anywhere and can be enjoyed on its own. This makes it a suitable food item to carry on picnics and during journeys. Kids love to eat fried rice in any form, pack it in kid's lunch box as protein rich nutritional snack.