Enhance your cheese cake, tarts and sandwiches with plum freezer jam. This fresh fruit preserve recipe retains its taste and flavor even after cooking. Learn how to make it with this easy recipe.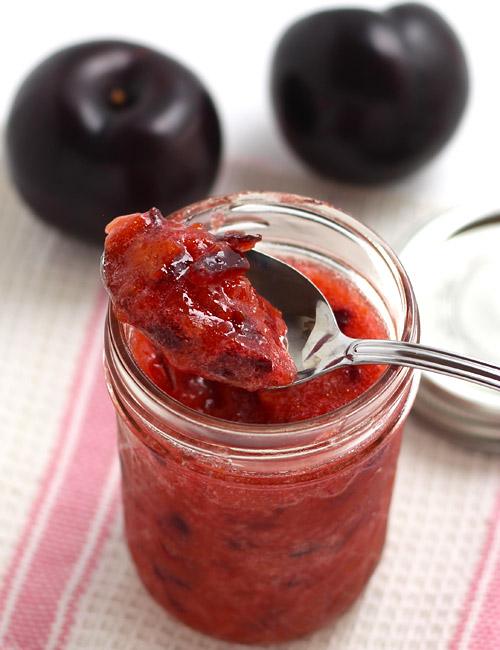 More Plum Recipes
Preparation Time:
15 minutes
Serves:
2 (8 oz) containers
Ingredients:
1 2/3 cups pitted and finely chopped Fresh Plums (approx. 2 large plums)
2/3 cup Sugar
1/4 cup Water
2 tablespoons Ball® RealFruit™ Instant Pectin
2 (8 oz) plastic or glass containers
Directions:
Rinse and dry containers for storing prepared fruit jam. Rinse the plums in water and pat dry them. Cut them into small pieces and discard the stone.

Take chopped plums and 1/4 cup water in a saucepan and bring it to rolling boil over medium heat.

When mixture starts to boil, let it boil for a minute and then reduce heat to low and cook for 5 minutes. As you can see in the picture, the plum looks soft and cooked. Turn off the flame and let the mixture cool at room temperature.

In this recipe, Ball® RealFruit™ Instant Pectin is used.

Take sugar and pectin in a large bowl and mix well.

Add cooked plum mixture.

Stir well for 3-minutes.

Fill the containers with juicy plum jam by leaving 1/2-inch head-space. (jam would expand during freezing) Wipe rim and sides of containers. After 15 minutes, seal the containers tightly. Let them stand at room temperature for 30 minutes. Label each container with name and date. Store them in a refrigerator and use within 3 weeks or store in freezer for up to 1 year.
Tips and Variations:
Weigh all plum jam ingredients accurately for best results.
Mix other fruit of your choice to make mixed fruit freezer jam.
Taste:
sweet and natural taste like fresh plums.
Serving Ideas:
 It is a perfect spread for pancakes, muffins, breads and toasts. Use it as an ingredient for making plum tarts, cakes, cheese cakes, pan cakes or savor it with roasted poultry and red meat.