Plum sauce, a semi liquid, semi solid sweet and sour fresh fruit condiment enhances the taste of many Chinese recipes. It is prepared with ripe plums and few other spices that give it an aromatic smell and flavor. Learn how to make sweet and sour homemade plum sauce with this easy recipe and use it for as a dip for egg rolls, wontons, etc.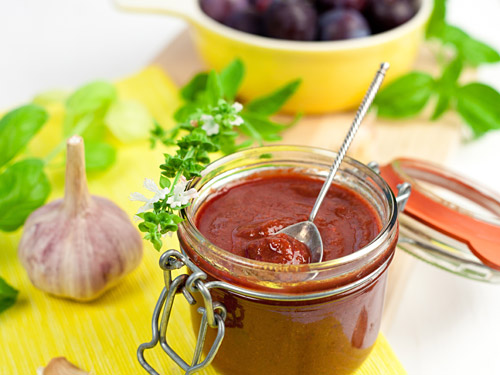 More Sauce Recipes
Preparation Time:
10 minutes
Ingredients:
1 lb (450 gms) Ripe Plums
1/2 teaspoon minced Fresh Garlic
1/2 teaspoon Red Chilli Powder
1 teaspoon grated Fresh Ginger
1/4 teaspoon Ground Cloves, optional
2 tablespoons Vinegar
1 tablespoon Soya Sauce, optional
1/4 cup Brown Sugar
Directions:
Choose dark maroon ripe plums. Wash and clean thoroughly, peel their skin, cut them into halves, remove stones and chop into small pieces.
Take plum pieces, sugar, minced garlic, grated ginger, vinegar, ground cloves and chilli powder in a saucepan.
Cook over medium heat and stir to blend flavor of all ingredients. When it starts to boil, reduce the heat to low.
Simmer until plum becomes soft and mixture becomes thick. It would take around 15-20 minutes. Stir in between occasionally. If plums are overripe and too juicy, then it may take more time to thicken.
Remove pan from heat and mix soya sauce.
Cool mixture at room temperature.
Pour prepared sauce in an airtight container and keep in refrigerator for long-term storage.
Tips and Variations:
Add onion to make it spicier and more flavorful.
If you do not like its chunky texture, then blend prepared mixture to paste in the last step.
Taste:
Sweet, mild spicy, mild sour
Serving Ideas:
Plum sauce enhances the taste of roasted duck. It is best served as dip for deep-fried Chinese dishes, such as spring rolls, egg rolls, noodles, and deep-fried chicken balls. It can be used as salad dressing too.