Every person who has mastered the art of basic cooking would love to make finger licking pickle at home to preserve season's best fruits and vegetables. However making perfect homemade pickle is very difficult and is an art mastered by only seasoned cooks. The secret of making lip smacking flavorful pickle lies in its base ingredient pickling spices. The pickling spice prepared with this recipe is a mixture of various crushed and whole spices and dried seeds known for their food preserving capabilities.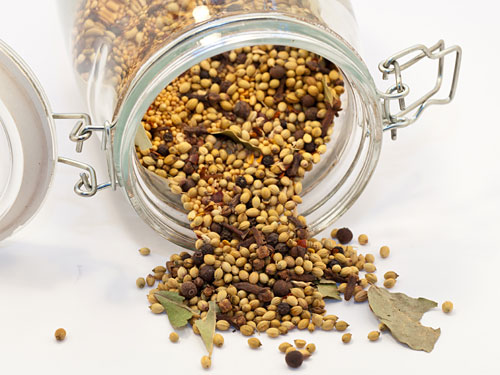 More Italian Recipes
Preparation Time:
10 minutes
Ingredients:
1 Dried Hot Red Pepper (chilli)
1 small piece of Dried Ginger
2 Bay Leaves
2 Cinnamon Sticks
1 tablespoon Whole Black Peppercorns
1 teaspoon Cloves
1 teaspoon Dill Seeds
1 teaspoon Coriander Seeds
1 teaspoon crumbled Whole Mace
1 tablespoon Whole Allspice
1 teaspoon Juniper Berries
1 tablespoon Mustard Seeds
Salt
Directions:
Break dried hot red chilli into small pieces or crush them.
Pound dried ginger and crush bay leaves.
Break cinnamon sticks into small pieces.
Combine all ingredients in a bowl and mix them properly.
Pickling spices are ready to be added in any pickle or sauce.
Store it in an airtight container for anytime use.
Tips and Variations:
Do not use any machine to crush spices. Use mortar and pestle to crush them. This will help retain its aroma and food preservation qualities. Crushing and mixing them in mixer or grinder will generate a heat and will affect the aroma of resultant powder.
If you do not have mortar and pestle and have to use grinder, grind them at low speed.
Serving Ideas:
Add this spices in pickles or sauces for nice aroma and delicious flavor. Use it to prepare mango, lime, carrot, red chilli and various other types of pickles.