Making tomato salsa is as easy as making salad. Just mix chopped tomato, onion, herbs and spices and voila! tomato salsa dip is ready to make your nachos and tortillas yummy. Learn how to make a tangy and delicious traditional salsa dip at home with this easy recipe.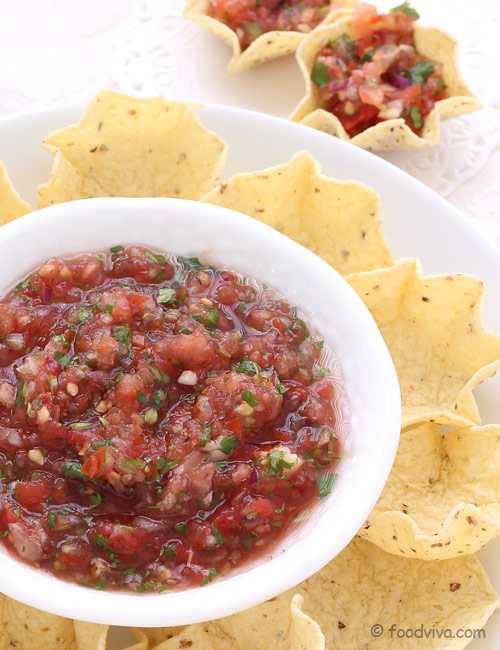 Preparation Time:
10 minutes
Ingredients:
2 medium Red Ripe Tomatoes, chopped (approx. 1/2 lb, 200 gms)
1/4 cup chopped Fresh Cilantro (Coriander Leaves)
1/4 cup diced Onion (Purple Onion or White Onion)
1 Serrano Chile or Jalapeño or Green Chilli, chopped (or to taste)
1 clove of Garlic
1/4 teaspoon Ground Cumin (Cumin Seeds Powder)
A pinch of Sugar, optional
Salt to taste
1 tablespoon Fresh Lime Juice
Directions:
Cut tomatoes into halves and remove the stem. If you like thick salsa, remove the seeds and juice from halved tomatoes and then cut them into big pieces. Use removed juice and seeds to make smoothie or other drinks. Chop onion and cilantro. Remove the seeds and stems from serrano chile and cut it into 4 pieces. Finely chop the garlic clove.

Add diced onion, garlic and serrano chile in the jar of a food processor or in the chopping bowl of a blender.

Add diced tomato and cilantro.

Add ground cumin, a pinch of sugar, and salt. Pour lime juice over it.

Process them until medium chunky texture. You can blend them according to the choice of salsa you want to make – mild chunky or medium chunky.

Tomato salsa is ready.

Transfer it to a container and refrigerate for at least 30 minutes before serving to enhance the flavor.
Tips and Variations:
You can use the canned diced tomato instead of fresh ones.
If you like chunky salsa, don't process them in a food processor. Chop all the ingredients finely and just mix them in a bowl.
Adjust lime juice according to your taste.
Serving Ideas:
Serve it with nachos, tortilla chips, corn chips etc.