Tomato Cream Sauce Recipe
Follow this recipe to make tomato cream sauce at home and turn your normal tomato sauce into creamier tomato dip or spread and make mouth watering pasta, pizza and sandwiches. The combination of Italian spices, garlic and olive oil provides it a flavorful character like no other. This recipe is a foodie lover's delight, try it today and see how everyone appreciate your cooking skills.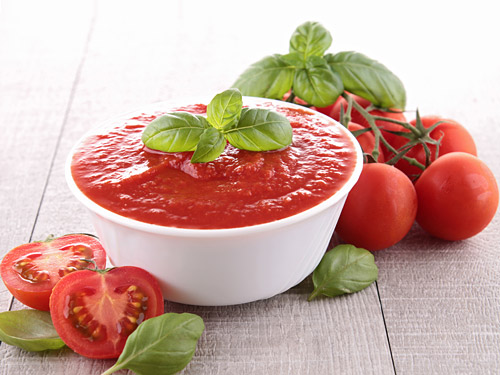 More Sauce Recipes
Preparation Time:
5 minutes
Ingredients:
4 medium size Red Tomatoes
1 Onion, diced
1 pinch Ground Black Pepper
1 Garlic clove, minced
2 teaspoons Italian Seasoning
1/3 cup Heavy Cream
1 teaspoon Fresh basil, chopped
2 teaspoons White Sugar
1 tablespoon Olive Oil
Salt to taste
Directions:
Chop and deseed tomatoes. Blend them with Italian seasoning, sugar and salt in a blender for few seconds and make a puree. It need not be an extra smooth puree.
Heat olive oil in a non-stick pan. Add diced onion and minced garlic and cook until onion becomes translucent.
Add tomato puree in a pan and simmer it on low to medium heat for 8-10 minutes. Stir in between occasionally.
Add heavy cream, mix well and cook on low heat for 5-7 minutes.
Turn off heat and season with ground black pepper and fresh basil according to your choice.
Serve creamy tomato sauce over pasta or noodles.
Tips and Variations:
Adjust quantity of spices according to your taste.
Use canned tomato if fresh ones are not available.
Taste:
Creamy and Tangy taste of tomatoes and milk cream with rich flavor and aroma of Italian seasoning
Serving Ideas:
Serve it with pasta. You can also serve it as a creamy dip with nachos and chips or with Indian snacks.