Tomato Dipping Sauce Recipe
It is a delicious combination of olive oil sauteed tomatoes, green onions and dried basil with tomato puree. The red pepper flakes and black pepper powder provides light spicy character to its tangy taste. Follow this easy tomato dipping sauce recipe and make garlic bread, chips, nachos, etc. even more delicious and palatable.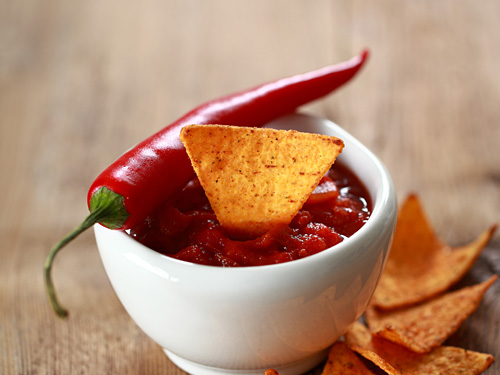 More Sauce Recipes
Cooking Time:
1 hr 20 min
Ingredients:
1 cup finely chopped Tomatoes
1/2 cup Tomato Paste
1/4 teaspoon Black Pepper Powder
1 teaspoon Dried Basil
1/3 cup finely chopped Green Onions
1/2 teaspoon Red Pepper Flakes
Salt to taste
1 tablespoon Olive Oil
Directions:
Heat olive oil in skillet.
Add chopped tomatoes and cook them low heat until they become soft, around 5-7 minutes. Stir and mix regularly while cooking.
Add tomato paste, green onion, dried basil and salt, cook for 4-5 minutes.
Add and mix black pepper powder and red pepper flakes.
Turn off heat and transfer prepared mixture to a serving bowl.
Refrigerate prepared tomato dipping sauce for 1-2 hours and serve chilled.
Tips and Variations:
Adjust quantity of pepper according to your choice to make a more or less spicy dip.
Saute 1 chopped garlic clove along with tomato for a nice garlic flavor.
Serving Ideas:
Serve it with garlic bread, chips, nachos etc.