Brandy Butter, a rich and sweet dessert sauce, is a great accompaniment for various types of puddings and pies. It is a classic and traditional accompaniment to Christmas pudding. This recipe uses brandy, butter and icing sugar to prepare basic but flavorful hard sauce in minutes and without any fuss.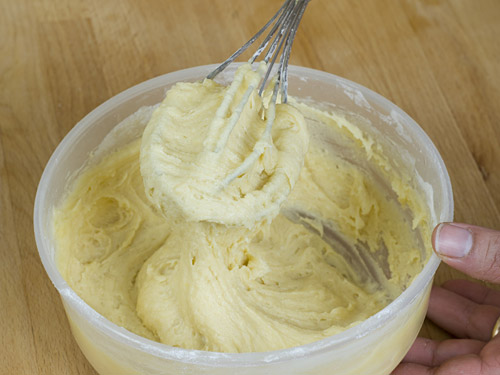 More Sauce Recipes
Preparation Time:
10 minutes
Ingredients:
2 tablespoons Brandy
1/2 tablespoon Orange Zest
1/2 cup Unsalted Butter, at room temperature
1 1/8 cup sifted Icing Sugar
Directions:
Beat together butter and icing sugar until smooth.
Gradually add brandy and beat constantly until smooth.
Cover and refrigerate for at least 2 hours and serve.
Tips and Variations:
This recipe requires use of softened butter. If you have stored it in refrigerator, then take it out from refrigerator 30 minutes before making this sauce. Alternatively, microwave the refrigerated butter to make it soft.
If you add more brandy, then mixture may curdle. If it happens, add more icing sugar and mix well to bind all ingredients.
Add 1/2 tablespoon lemon juice for variation.
Serving Ideas:
This sauce is typically served with various type of puddings like plum pudding, bread pudding, etc. It is also a good accompaniment for fruitcakes, gingerbread, mince pies, etc.