Tomato dip prepared with this recipe has tangy and spicy taste and can be served as accompaniment with snacks like nachos, tortilla, chips, finger chips, etc. or as relish. In this recipe, first tomatoes are sauteed with spices in olive oil and then pureed into smooth paste using blender. The garlic, onion, cilantro and adds their own nuances giving it a nice complex flavor.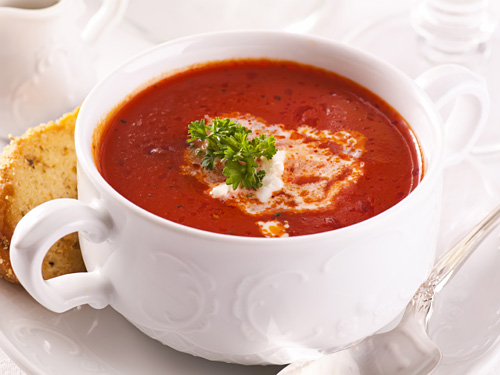 More Tomato Recipes
Preparation Time:
5 minutes
Ingredients:
3 medium size Red Ripe Tomatoes, finely chopped
1 Onion, finely chopped
2-3 Garlic cloves, finely chopped
1 Green Chilli, finely chopped
1 Dry Bay Leaf
1/2 teaspoon Red Chilli Flakes
1 teaspoon Black Pepper Powder
2 tablespoons Tomato Ketchup
2 teaspoons Cilantro, finely chopped
2 tablespoons Olive Oil
Salt
Directions:
Heat 2 tablespoons olive oil in a frying pan on low flame.
Add chopped onion and sauté until onion becomes translucent or for around 1-2 minutes.
Add chopped garlic, chopped green chillies and dry bay leaf, sauté for a minute or less.
Add chopped tomatoes, red chilli flakes and salt, stir thoroughly and cook on low flame until tomatoes become soft, approx 8-10 minutes. Stir in between occasionally.
Discard bay leaf from prepared mixture and transfer to blender or food processor jar. Add black pepper powder, cilantro and tomato ketchup, blend all ingredients together until smooth paste.
Tangy tomato dip is ready, transfer it to a serving bowl, garnish with a cream and cilantro and serve.
Tips and Variations:
Add Italian seasoning, oregano and basil for variation.
You can add 1 teaspoon sugar in above recipe to make it mild sweet and tangy.
For best result, use red ripe tomatoes which are less sour.
Serving Ideas:
Serve it with garlic bread, bread sticks, nachos, chips, pasta, crackers, finger chips, pakodas etc.