Out of all types of Indian breads that are cooked in tandoor, plain butter Kulcha is probably one of the most sough after bread after Naan. Since it requires tandoor or gas oven to cook, many believe that it can not be prepared at home. However in this step by step photo recipe of kulcha without yeast, you can make soft and fluffy butter kulcha at home without oven by using technique given below and still get same Punjabi restaurant type taste and texture.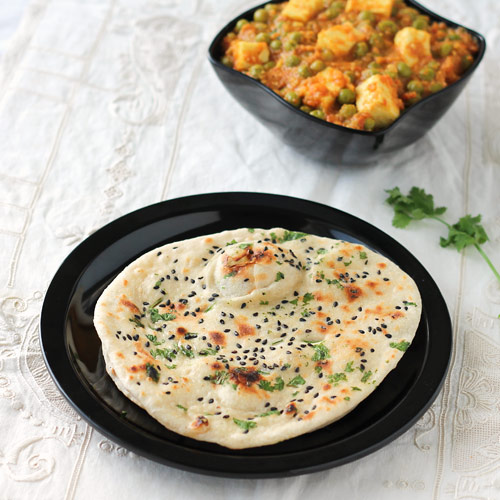 More North Indian Recipes
Preparation Time:
2½ hours
Serves:
3 servings (6 kulchas)
Ingredients:
1½ cups Maida (all purpose flour) + for dusting
1/2 teaspoon Baking Powder
1½ teaspoons Sugar
1½ tablespoons Curd (yogurt)
1½ tablespoons Oil
3 tablespoons Milk
Salt to taste
Warm Water, to knead the dough
1 tablespoon Black Sesame Seeds or Kalonji Seeds (onion seeds)
3 tablespoons finely chopped Coriander Leaves, optional
Butter, as needed
Notes:
In this recipe, kulcha is cooked over direct flame to give it a tandoor like burnt effect and taste. However, if you find that this method difficult or if you are a beginner in cooking, you can roast (cook) the kulcha like chapati (or paratha) as well.
Use iron tawa to make this kulcha. Don't use non-stick tawa because kulcha may fell down while cooking on direct flame.
Directions:
Sift the maida flour, baking powder and salt together in a large bowl having wide mouth. Add sugar, curd and oil. Add milk and mix well.

Add warm water as required and bind the smooth and soft dough.

Cover the bowl with a damp cloth or plastic wrap and keep it aside for 2 hours to set.

After two hours, knead the dough again until smooth. Take dry flour for dusting in a plate. Divide dough into 6 portions and give them a round shape like ball. Take one ball and flatten it by pressing it between your palms, coat it with dry maida flour and place on a rolling board.

Roll it out into a circle having 3-4 inch diameter using rolling pin. Sprinkle some sesame seeds and coriander leaves over it.

Again roll it out and make a medium thick 6-7 inch diameter circle (little bit thicker than paratha) or into an oval shape. Don't worry if the shape is not perfectly round.

Flip it upside down and apply some water on top side (plain side) with brush or wet hand.

Heat tava over medium flame. When it is medium hot, take the rolled raw kulcha in your hand and place it on tava such that side with sesame seeds stays on top. Cook until bubbles start to appear on the surface.

When bubbles appear, turn entire tava upside down and place it directly over flame (on normal gas or as shown for electric stove top – Keep 2-3 inches distance between flame and tawa) and cook until brown spots appear on the surface. If you are using electric stove top, keep mesh or stand as shown in photo over coil and then place tawa over it and increase the heat to high during this step.

Check frequently by lifting tawa up (as shown in the photo) to prevent it from burning.

When you see brown spots starts to appear evenly, take it away from flame or heat.

Scrape out the kulcha with spatula. It will come out easily and you will see backside having a nice texture like as you get in restaurant.

Apply some butter over it. Repeat process for remaining dough balls.
Tips and Variations:
Use of coriander leaves and sesame seeds is optional. However this is what makes it separate from Naan.
Sprinkle some sliced garlic over rolled dough in step-5 to make flavorful garlic kulcha.
Bind the soft dough. It will make kulchas softer and chewable.
It is necessary that tawa is hot enough to get the restaurant like texture.
Serving Ideas:
 Serve this Indian style tandoori bread with the curry like
paneer tikka masala
or
kadhai paneer
, papad, kachumbar salad and lassi. It can also be served with dal fry in lunch or dinner.