Tomato Cheese Sauce Recipe
Tomato Cheese Sauce!! a must have tangy and creamy condiment to make tempting pasta and spaghetti. It can be easily made with fresh tomato, cheese, garlic and Italian herbs and spices and generally used in many Italian food preparations. Learn how to make creamy and yummy tomato cheese pasta sauce with this recipe and make your pasta, spaghetti and pizza simply irresistible.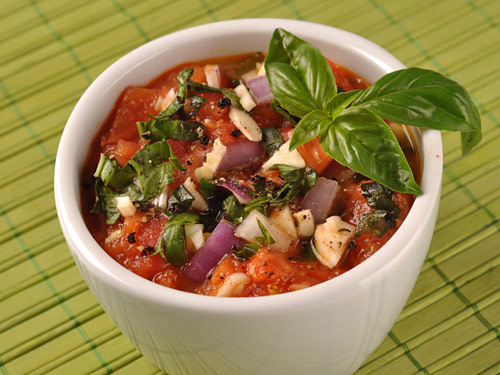 More Sauce Recipes
Preparation Time:
10 minutes
Ingredients:
2 large Ripe Tomatoes, finely chopped
1 Bay Leaf
1 Garlic clove, finely chopped
1 pinch Ground Parsley
1 pinch Ground Black Pepper
1 pinch Red Pepper (chilli) Flakes
3 teaspoons grated Cheddar Cheese
1 pinch Dried Oregano
2 teaspoons Olive Oil
Salt
Directions:
Heat olive oil in a non-stick pan. Add bay leaf and chopped garlic and sauté for 20-30 seconds.
Add chopped tomatoes, ground parsley, ground black pepper, red pepper flakes and salt. Mix well and cook on low heat for 8-10 minutes while stirring occasionally in between.
Add grated cheddar cheese and mix well. Cook on low flame until it melts.
Mix well and turn off heat. Remove and discard bay leaf from prepared sauce.
Add dried oregano and mix well.
Tangy and creamy tomato sauce with cheese is ready to be used for preparing pasta or pizza.
Tips and Variations:
Add basil for variation. Use fresh or dried basil according to your choice.
Use canned tomato if fresh ones are not available.
Taste:
Creamy and tangy taste of cheese and tomato with indulging flavor and aroma of garlic and olive oil.
Serving Ideas:
Serve it with garlic bread as a tangy dip. Mix cooked pasta with this sauce and make a creamy and tangy tomato cheese pasta.