This homemade Pizza Sauce recipe is very simple and uses basic ingredients like fresh tomatoes, garlic, basil, oregano and red chilli flakes to make a thick and tangy sauce which is used as a spread on the pizza base. Choosing the fresh red ripe tomatoes is the key for the best sauce, you can also use the canned tomatoes too. This sauce has nice smooth texture but if you like the chunky texture just don't use the immersion blender in the last step. Enjoy making this tomato sauce at home by following the step by step photo recipe with detailed directions and tips.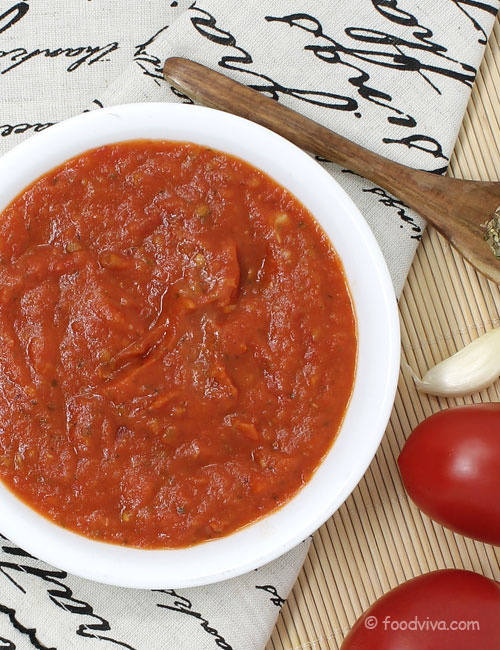 More Italian Recipes
Preparation Time:
5 minutes
Ingredients:
6 large Tomatoes, diced(500 gms, approx. 2 cups) or 1 can (14.5 oz) diced tomatoes
2 tablespoons Olive Oil (or any flavorless oil)
1 tablespoons roughly chopped Garlic
1/3 teaspoon dried Oregano (or Italian Seasoning)
1/3 teaspoon dried Basil (or Italian Seasoning)
1/2 teaspoon Red Chilli Flakes
1/2 teaspoon Sugar, optional
Salt to taste
Directions:
Heat 2 tablespoons olive oil in a pan over medium flame. Add 1 tablespoon roughly chopped garlic. Sauté for 30 seconds.

Add 1/3 teaspoon oregano, 1/3 teaspoon basil (or 3/4 teaspoon Italian seasonings) and 1/2 teaspoon red chilli flakes.

Mix well and cook for 30 seconds.

Add diced tomatoes and salt.

Mix well and let it cook over medium flame until tomatoes turn soft, it will take approx. 5 minutes. Stir in between occasionally to prevent sticking.

When tomatoes turn soft, add sugar.

Mix well and cook until mixture turns thick.

Turn off the flame and let the mixture cool to room temperature. If you like the chunky texture in sauce, keep it as it is. If you like the smooth texture, blend the mixture using a hand immersion blender (or in the jar of a mixer grinder) until smooth.

Transfer it to a bowl. It stays good for 3-4 days in the refrigerator when stored in an airtight container. Either use it to make

bread pizza

or cheese pizza and enjoy.
Tips and Variations:
Choose red ripe tomatoes to get the nice red color of sauce.
You can use canned tomatoes (1 lb) instead of fresh tomatoes.
If possible, use olive oil for the best flavor.
Serving Ideas:
 Pizza sauce is used as the basic sauce to make
bread pizza
or traditional cheese.