Arborio Rice Pudding Recipe
It is a specialty rice pudding as it uses the specific Italian short grain rice from the town of Arborio (this rice variety is used for making Risotto). This particular rice variety has firm, creamy and chewy texture when cooked. This characteristic of this Italian rice makes it a perfect choice for making delicious pudding which has a great texture. Apart from use of Arborio rice, all other ingredients are same as used in other rice pudding recipes.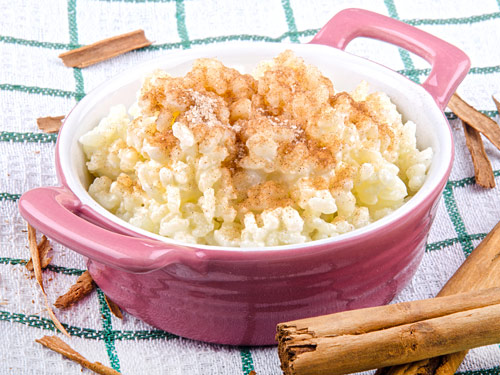 More Pudding Recipes
Preparation Time:
5 minutes
Cooking Time:
35 minutes + 2 hours
Ingredients:
1/2 cup Arborio Rice (Italian short grain rice)
4 cups Whole Milk
1/4 cup Sugar
1 tablespoon unsalted Butter
1/2 teaspoon Vanilla Extract
1/2 teaspoon Ground Cinnamon
Ground Cinnamon, for garnishing
Directions:
Place rice, milk, and sugar in a large heavy based saucepan. Bring it to boil over medium-high heat and stir occasionally.
Reduce heat to low and cook until it is creamy and rice is tender. It would take around 25-30 minutes. Stir frequently in between to prevent sticking and burning.
Turn off heat and mix ground cinnamon, vanilla extract and butter.
Transfer prepared mixture to individual serving bowls. Garnish with cinnamon stick and serve warm. If you want to serve it chilled, then cool it at room temperature for 10 minutes, place in a refrigerator for 2 hours and garnish with ground cinnamon and serve.
Tips and Variations:
Always use heavy bottomed pan while preparing this dessert because milk and rice can get burned easily in thin bottomed pan.
If you want to eat hot or warm pudding, then cook until thick consistency in step-2 or cook until semi thick consistency to eat chilled.
Taste:
Firm, creamy, and chewy with sweet taste. The starchy taste of Arborio rice blends well with other flavors.
Serving Ideas:
Enjoy it as a party dessert or as a healthy breakfast.